Awesomeness and concreteness, coherence and innovation, black and white and colors; they share the simple beauty of Brera, the new bioclimatic pergola.
In 2020 Pratic renovates its campaign image by two original subjects, achieved in collaboration with Artemio Croatto of Designwork studio in Udine.  The Sardinian coast of Iglesias, immortalized from Brera pergola, is the landscape that has been chosen to coherently evolve the concept that in 2018 redefined the rules of communication of outdoor, by portraying the structure of Opera as a frame which was barely visible from the Moroccan horizon on which it overlooked.
Pratic dares again in this visual, by proposing a black and white persuasive photo that, as a matter of fact, speaks about the richness of color. A discreet reference that enhances the whole picture and that is connected to one of Pratic features which,  thanks to a new zero-impact coating system, allows to customize any pergola by selecting the favorite color. Avant-garde concerning the idea, but also as regards the execution since, for Pratic,  it means always offering products with impeccable performances, now guaranteed by Qualicoat quality certification for aluminum coating.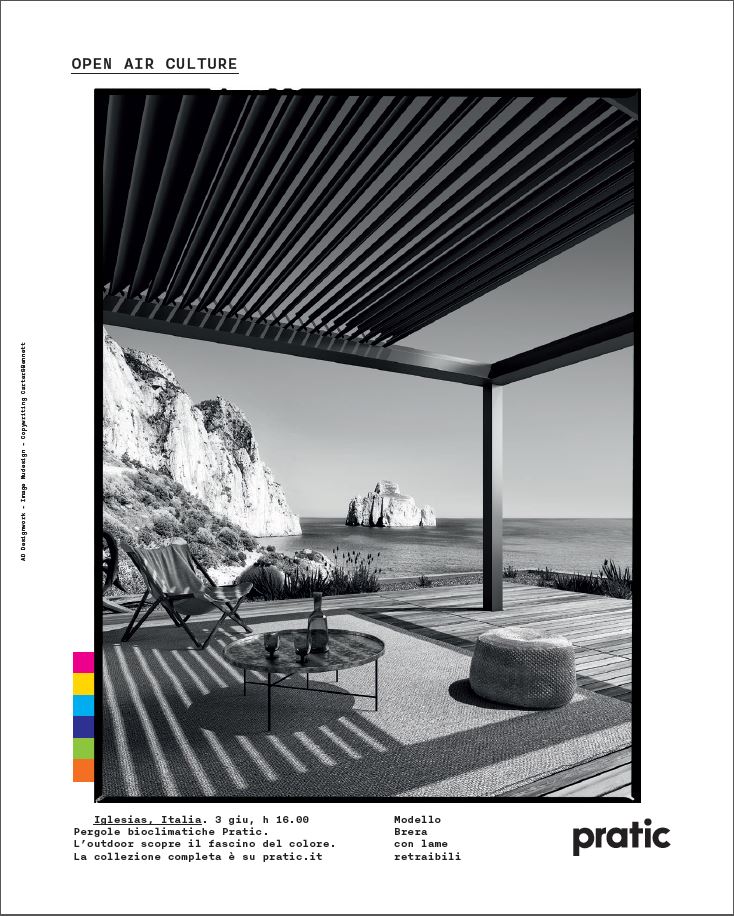 The multichannel advertising planning, by means of web and paper, will involve design media but also the main Italian newspapers and, this year, it will be enhanced by a second subject, specifically studied to meet the needs of contract.   In an urban setting, on arooftop of a refined hotel, Brera, the pergola with retractable blades stands out,  by interpreting one of the many covering solutions for horeca. Pratic, indeed, accurately intercepts the needs, always more recurring, of accomodations and commercial activities to enjoy open air spaces all year long and conveys it through a direct message that expresses, in the simple style that characterizes the company itself, the concrete benefits of a bioclimatic cover.
Two different communication styles come together under the sole message of the new Pratic press campaign, that makes rethink the wayofoutdoor through always customized projects that can naturally combine indoor and outdoor in pure comfort spaces.