The invitation is to discover the projects that have revolutionised the open air life, in an immersive and customized way, just a click away.

Through an innovative Virtual Tour, Pratic open the doors of its "digital" headquarters to the visitors wishing to discover its spaces – especially the Showroom: a place where elegant outdoor scenarios come alive thanks to the elegant awnings and pergolas by Pratic; each one to discover in detail, thanks to interactive tools and exclusive contents.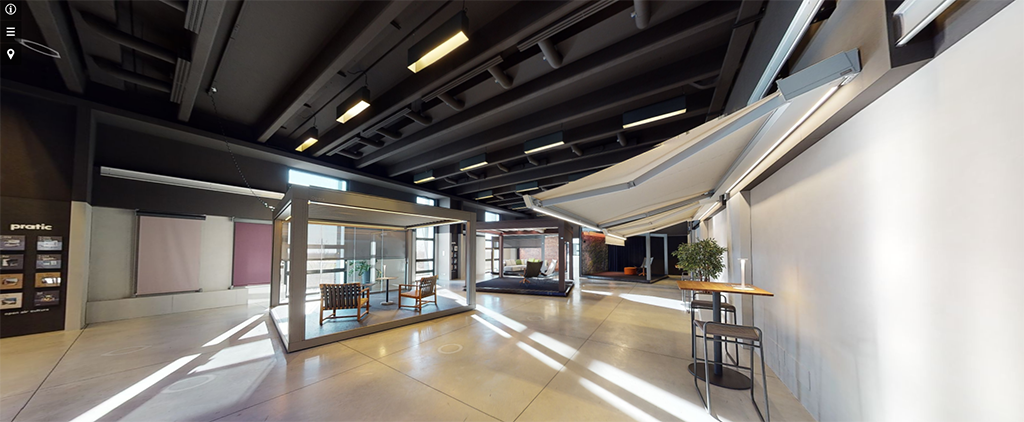 The intuitive and realistic web surfing allows to freely walk around the exhibition area, conceived to offer a 360-degree overview of the products, detailed information and practical tools at the disposal of architects and professionals. As a matter of fact, on each installation you can find a tag that allows to visualize a short presentation video, and to access to all in-depth materials concerning the selected product or option. Not only, to discover the precise dimensions of the exhibited awnings and pergolas, you can use a specific tool to measure any single element.

Beyond the showroom, the visit expands to the offices and the outdoor area, where the mirrored pergola Connect stands out. A unique opportunity to live in first person the suggestion of the new bioclimatic pergola: from the outside, to admire the hilly landscape that reflects on the mirrored glass walls and from the inside, to benefit of its amazing panoramic view.

To access to the virtual experience, available in Italian or English language, no download is needed, you have just to click on the link of the Virtual Tour, from pc, tablet or smartphone.