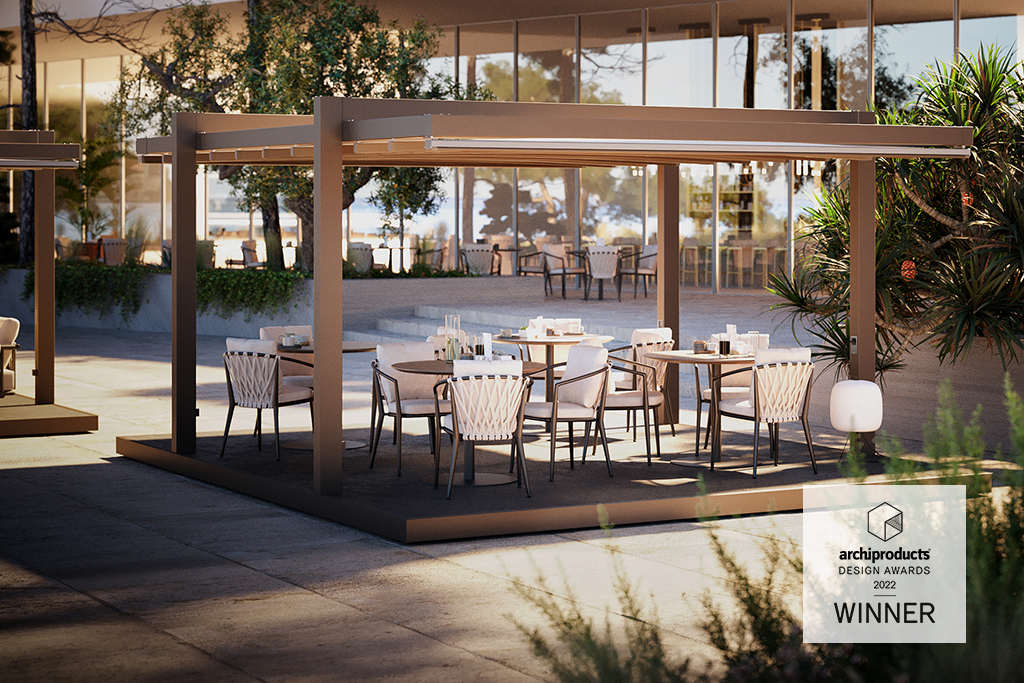 The most advanced home automation technology enclosed within a minimalist screen, by design and environmental impact. The concept of the new Phoenix Air pergola won the Archiproducts Design Awards 2022, claiming the prize for the Outdoor category.

During the seventh edition of the competition promoted by the Archiproducts portal and dedicated to furniture excellence, Pratic's proposal stood out among over eight hundred entries from all over the world. They were assessed by a jury made up of forty of the most influential names in architecture, design, photography and the international press, with the task of rewarding the best projects in each category, characterised by an innovative, ethical and sustainable imprint.

Qualities that Phoenix Air has been able to synthesise in a renewable structure with an original arched design, which lightens the traditional lines of the pergola to grant almost absolute adaptability. Made with slender aluminium profiles and a packable PVC planar cover, Phoenix Air becomes even more versatile thanks to elegant LED lighting solutions – which can be positioned on the canopy, platform and uprights – and a wide range of accessories. Among these, the home automation applications stand out: weather sensors, smartphone apps and voice commands allow any automation of the pergola to be adjusted according to different weather conditions or one's own desires. An advantage that allows open-air living with maximum comfort and respect for the environment.