Often considered as the final detail when designing a garden terrace, plants actually provide relevant benefits that make their presence vital in any outdoor and indoor environment.
They not only allow you to tastefully furnishing your open-air corner but also help to improve air quality, to refresh the house during summer as well as to optimize thermal insulation in winter by working as a windbreak barrier. Not to mention the positive impact that being in contact with nature has on our psychophysical well-being.

It is precisely plants that can be transformed into an authentic open-air comfort element: to be enjoyed during the hottest months, in the shade of an awning or all year long thanks to the protection provided by cutting-edge structures such as Pratic bioclimatic pergolas for an even more charming, elegant and sheltered terrace with the right vegetation.
Moreover, from a blooming balcony up to a vertical garden, it is not necessary to have a highly trained green thumb to keep plants for terraces lush and tidy. Yet following few easy rules consistently is enough, starting from the choice of the most suitable trees, small bushes and flowers for your own terrace.


1. Decorating a terrace with plants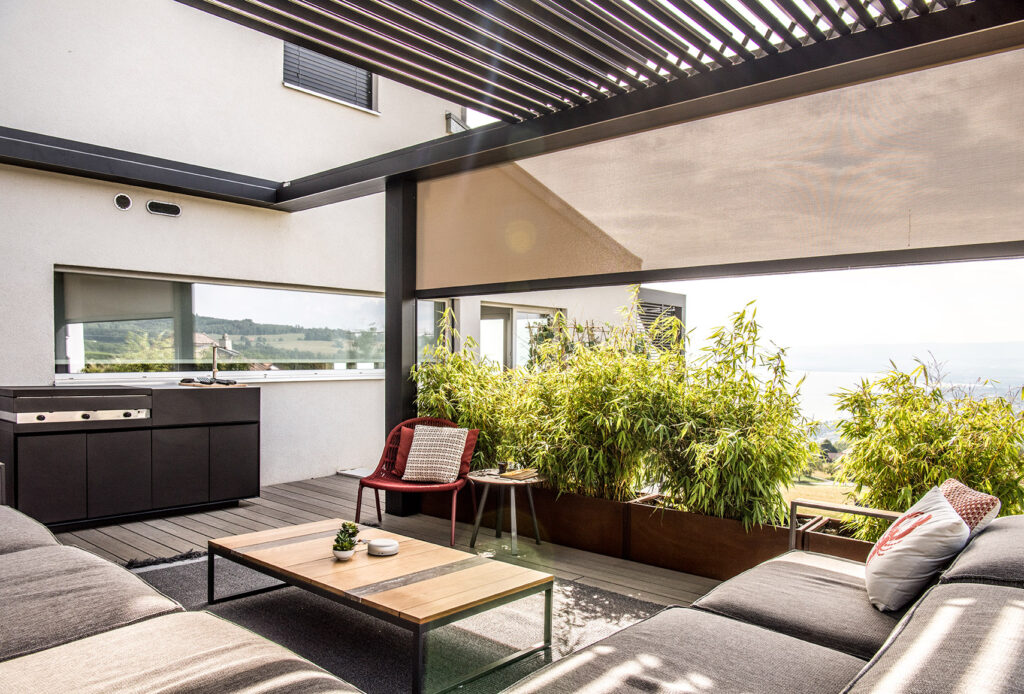 The first element to take into account when decorating a terrace with plants is the available surface in terms of walkable square meters as well as walls, railings and solar coverings that can be used to house climbing plants for balconies, flower cascade, vertical gardens and much more.

Once the space has been defined, a good tip to make sure that your terrace decorated with plants remains always in full bloom and healthy is to carefully evaluate the sun exposure of your patio. This aspect along with climate and temperature changes during the different seasons provides useful guidelines to select the right plants for terraces, which are able to withstand and keep their beauty all year round.

Lastly, also the style influences the choice of bushes and flowers that necessarily have to match the building and furniture's design. Combining different botanical species will give life to complex and interesting terrace configurations yet high-maintenance.
On the contrary, a terrace decorated with plants of the same type is more essential as for aesthetic and attention required.


2. Outdoor potted plants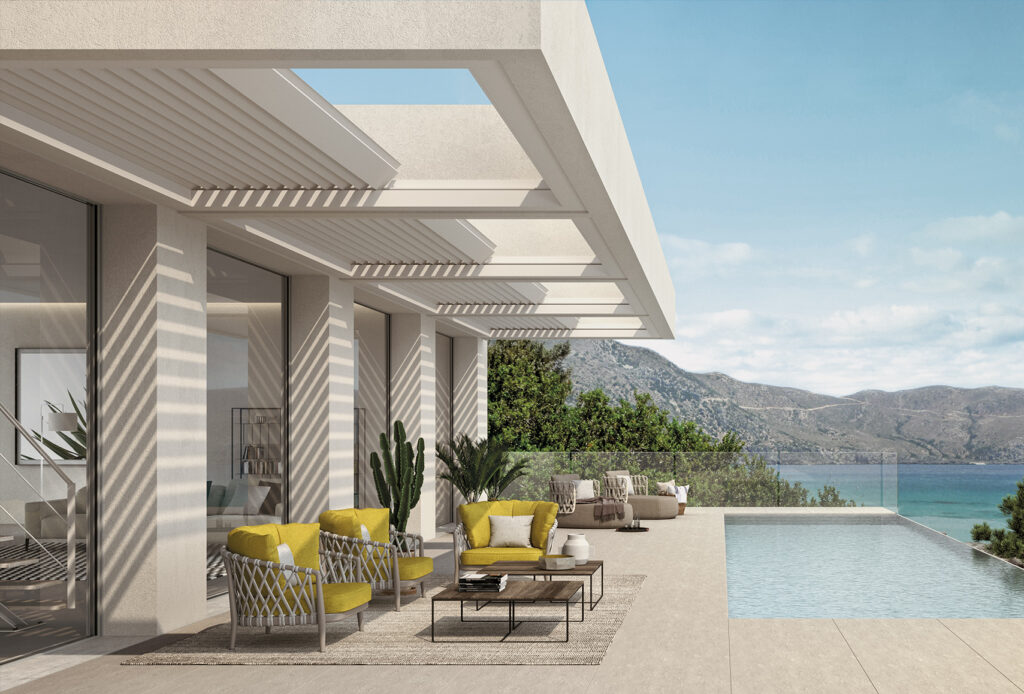 When it comes to furnishing the open air space of an apartment, outdoor potted plants are the most successful: both for the wide range of choice and also because they represent a practical solution for being placed and cultivated within tiny spaces.
Whether large or small, evergreen or with gorgeous blooms, outdoor potted plants allow you to freely arrange the vegetation on your terrace, using the 'green' element also as a functional detail to enhance the outdoor design, provide privacy or simply to enjoy the delicate scent of your favourite flowers.
So, how are the most suitable plants for terraces to be chosen, without making mistakes?


2.1 Evergreen plants for terraces
If the space outdoors has to be enjoyed all year round and you want to avoid the classic 'bare' effect during winter months, then the answer is easy: evergreen plants for terraces preserve their foliage, offer the advantage to be highly resistant, thus requiring little care. Not only, in some cases, during spring have they donated colourful flowerings.
Among the latter, there are geraniums that with their waterfall growth are ideal to be placed along railings and parapets, thus recalling the typical aesthetic of Mediterranean balconies. In summer then, with the arrival of the good season, lavender, periwinkle, olea fragrans, jasmine and oleander promise colour and scent. Oleander is to be carefully placed, especially if you have pets, for which its leaves are poisonous.

Searching for evergreen plants for terraces able to lend a sense of volume and whole, good options are also boxwood or dwarf cheesewood, whose rounded shape is given from their small and thick leaves. Perfect for temperatures up to 15 degrees below zero is Aucuba Japonica, but among outdoor evergreen plants you can also go for yucca, Cyperus Alternifolius (also known as 'false papyrus') and cherry laurel.

Finally yet importantly, there are aromatic plants: rosemary, salvia, thyme, juniper give colour and fragrance to the balcony in any season. In case of narrow spaces, they can be placed vertically with the result of an elegant wall from which to draw for preparing your preferred recipes.


2.2 Deciduous plants
Although without leafy branches in winter months, deciduous plants are the ones that during warm season flaunt splendid buds and crowns, thus offering a unique sight when the first cold days come and leaves turn in warm colours from yellow to orange up to the most intense red shades, bringing on your balcony the charm of autumnal foliage.

The most suitable plants for terraces ensuring this effect are small potted trees such as maple, hazelnut tree, elder and hawthorn. For those loving gaudy flowering in spring, instead, among deciduous plants, you can opt for colourful hydrangeas or forsythia with yellow petals and thin and elegant leaves or viburnum featuring white snowball-shaped petals.


2.3 Flower plants for garden terraces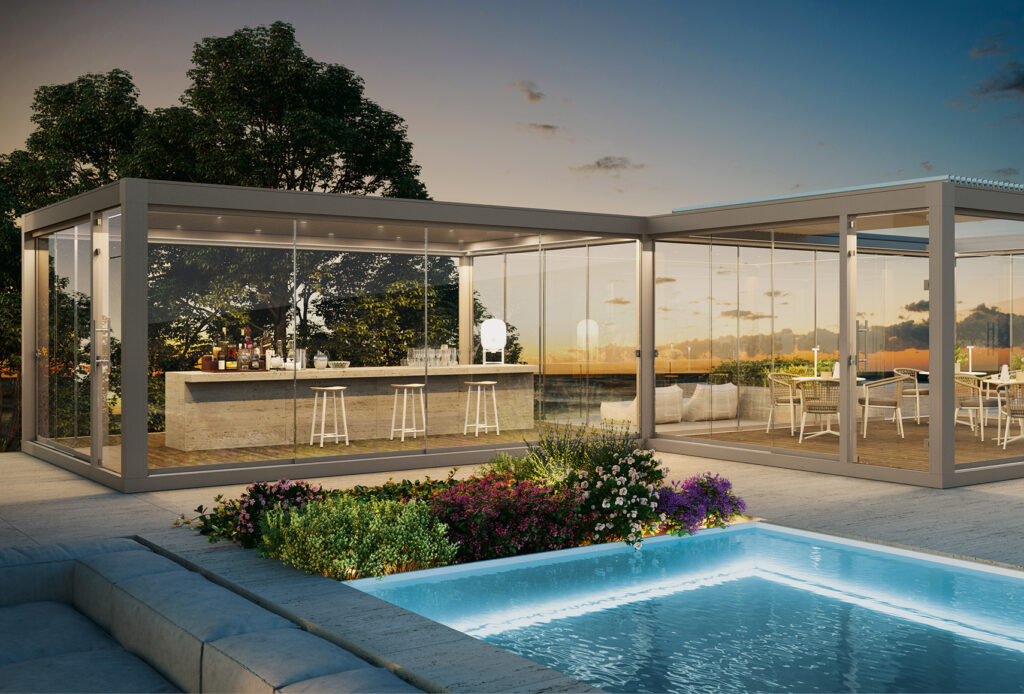 It precisely flowers that are most eye-catching detail in any outdoor environment. To be combined according to refined and soft colour palettes or with intense and bright colours, flower plants for garden terraces are ideal for giving free rein to one's imagination by combing small seedlings with large shrubs, in order to create movement and furnish the different open-air corners with differentiated solutions.

As far as flowers are concerned, you are spoilt for choice, but one aspect to be considered carefully is the type of flowering you are looking for. If the desired result is a real burst of colour to enjoy for a few weeks to its full potential, then choosing flower plants for garden terraces that ensure the opening of their buds at the same time will be crucial. However, if you want to delight in the sight of petals throughout the year, plants and shrubs blooming at different times are to be preferred.

For a luxuriant blooming from spring to early summer, the most recommended flower plants for garden terraces include lilies, begonia, gladiolus, azaleas up to woolflowers and primroses, all of which can be planted in vases of different sizes and placed on the ground, on windowsills or inside vases to be hanged on railings. On the other hand, if you want to have hanging plant composition the best alternatives are represented by fuchsia, hanging periwinkle and leaning verbena.
To enjoy the beauty of corolla throughout the autumn-winter period, cyclamens, violets, marigolds and daisies cannot be missing.


2.4 Climbing plants for terraces
In a terrace decorated with plants, using verticality is a cunning ploy, not only when outdoor spaces have limited dimensions but also if the aim is to have privacy, shade or thermal insulation.
Climbing plants for terraces ensure each of these advantages since they provide a natural shading extending along walls, dividers, fences and pergolas in a personalized way or simply by addressing their growth by means of wooden racks, espalier or mesh fences.
Also in this case and depending on preferences, there are many options available of climbing plants for terraces starting from evergreen ones up to cascade of flowers.
Among the first ones, the most fascinating and suitable to decorate an outer wall are bougainvillea, passionflower and everlasting climbing rose gardens. Moss serves for the same purpose too; although it does not bloom, it provides living walls of high impact and well insulated. With their leaves, ivy and American vine give life to effective dividers and are to be pruned regularly since they grow very quickly.
On the other hand, if you are in search for plants able to transform gazebos and wooden pergolas in a refined shelter with a romantic allure, then wisteria, clematis, jasmine and honeysuckle prove to be the climbing plants for terraces that make the difference.


2.5 Small trees for terraces
Whoever said that trees are only for gardens? If you have sufficiently large balconies or rooftops, adding one or more small trees provides for a dynamic effect, in perfectly 'vertical wood' style.
Obviously, it is not possible to place species that reach great dimensions; however, there are many alternatives of small trees for terraces such as the single-trunk ones and arboreal shrubs.

To the first category, belong the so-called 'dwarf' trees namely the ones with compact dimension, whose roots can be easily kept inside a vase. Some examples are fruit trees such as elegant olive trees, Mediterranean citrus groves, figs, apple and lemon trees, kumquat and peach trees: all of which are easy to cultivate on your balcony and have the advantage of producing edible fruit that can be tasted as soon as they are ripe.
Among the ornamental trees for terraces, instead, increasingly sought-after are red maple, bay trees and dwarf conifers requiring little maintenance.
Last but not least, arboreal shrubs create volume, height and movement, as in the case of skimmia, camellia and viburnum.


3. Tall plants for terraces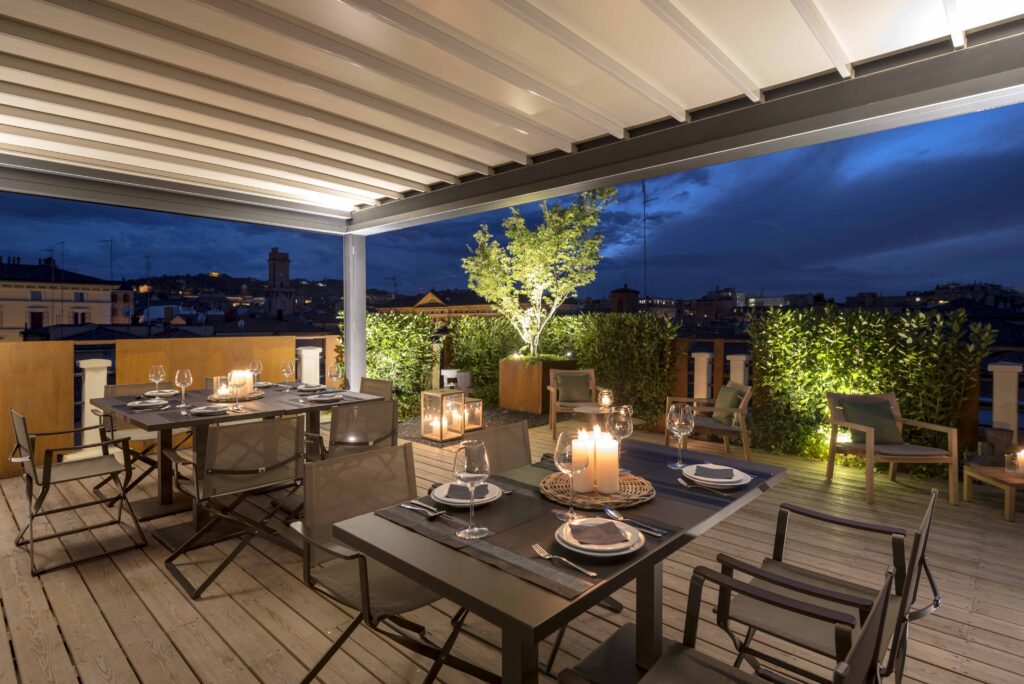 Along with trees, another option to raise your green shelter is to use tall potted plants for terraces, whose main features are smaller roots and a growth on more trunks, like hedges. These features simplify the management and allow the outdoor area to be enclosed by a think and enveloping greenery, perfect to isolate from the surroundings.

Lilac, photinia, common laurer, privet and pittosporum are the perfect plants for this purpose; for an atmosphere evoking exotic and tropical scenarios, the best solutions are monstera and bamboo. Among the tall plants for terraces, bamboo is the one that may guarantee the fastest and most luxuriant growth: a great ally for those who want to furnish the outdoor space quickly but at the same time are willing to do frequent and particularly demanding pruning, due to the thick and substantial structure of its canes.


4. Resistant plants for terraces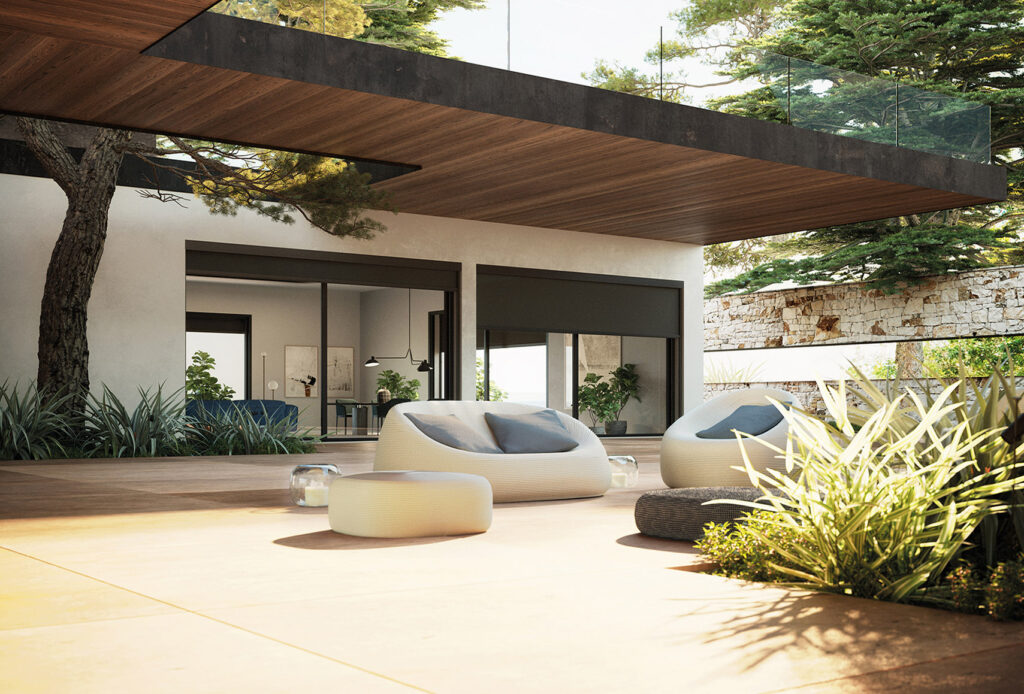 An outdoor space always tidy with a basic maintenance is a target that can be easily acquired; you just need to choose carefully the plants for terraces, that have to be resistant to sunrays and harsh winter temperatures. Despite their delicate aspect, jasmine, roses and petunias reveal an unexpected tenacity, letting them grow vigorously all year round and even survive from potential frosts, reserving for spring season a charming blooming.

Dwarf conifers, aromatic and medical plants, such as rosemary and sage, as well as the fleshy leaves of groundsel and aloe are resistant plants for terraces too. For those who usually forget to sparge, a great solution is offered by succulent plants, to play with through the combination of ever-changing shapes and sizes.


5. Plants for terraces in direct sunlight
When choosing the most suitable plants for your outdoors, you must take into consideration the exposure of the terrace and the sunlight it receives during the day. The sunrays and the heat may test the resistance of plants, flowers and trees, especially if there's no possibility to shelter them through awnings, pergolas or breathable fabrics.

The first advice to cultivate plants for terrace in direct sunlight is choosing plants that love warmth: geranium is a classic, since it is versatile and available in many colours; succulent plants are peculiar too, as well as the small palms, evoking immediately atmospheres of wellness.
However, be careful with planting phases, since only deep vases made of natural materials allow plants for terrace in direct sunlight to keep the correct humidity in the warmest days. It may be useful to protect the roots using a layer of expanded clay on the bottom of the vase an obviously water them with perseverance exclusively in the coolest hours of the day.


6. Plants for shaded terraces
On the contrary, in presence of outdoor areas not so illuminated or exposed to sunlight for a limited time, you can make a verdant green space grow, where to house your favourite plants. Once again, the only expedient is to restrict the range of options to the plants for terraces thriving in shady environments.

The queen of this category is the refined fern that, with its sinuous and jagged leaves, can decorate the balconies of any style and size, requiring only soft soil and abundant summer watering.
Another example of plants for shaded terraces is given by evergreen shrub with berries, such as pittosporums and holly, or by bright green species such as ivy, hosta and aucuba, that even in case of little sunshine and attention are almost indestructible.

For those who love creative solutions, the autumn anemones confirm themselves as one the most interesting plants for shaded terraces. Hailing from the Far East, these are characterised by their late flowering, which in late summer brightens up the outdoor area with bichromatic corollas and soft leaves reminiscent of the comfortable shape of a cushion.


7. Garden terraces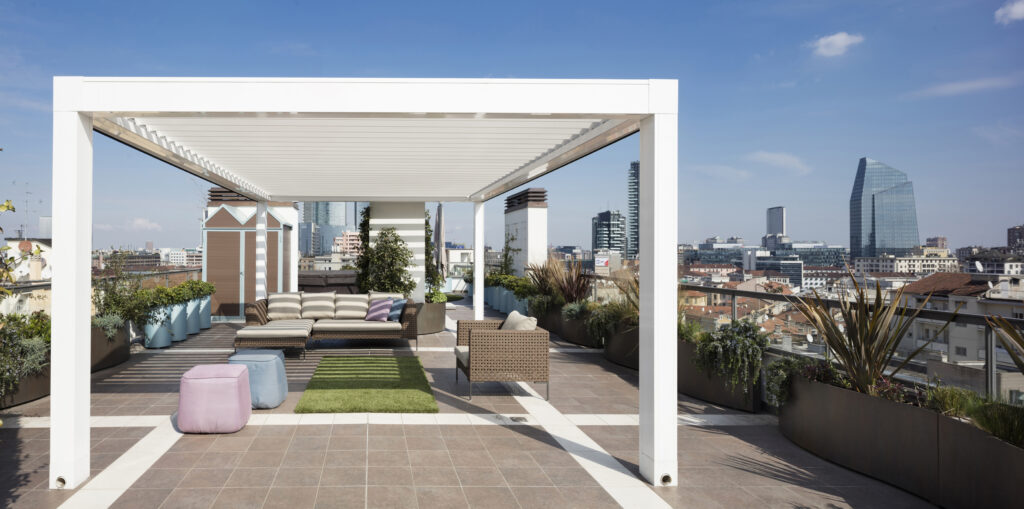 With the correct arrangement of the plants, any city terrace can transform into a true natural relax area, where to immerse in the greenery and– if possible – even plunge your feet in a soft lawn, like in a true yard.

The rooftop gardens are very trendy: garden terraces that incorporate inside the flooring a lawn, on which you can also plant small trees and hedges.
For this kind of installation, you may address to professionals, who will waterproof and isolate the surface of the garden terrace, and then spread a thick layer of clay and topsoil, which facilitates water drainage and grass growth.

An extraordinary effect offering great advantages also in terms of energy efficiency, since it helps to isolate the building and to refresh the air.
What are the disadvantages of having a garden terrace? The quite demanding maintenance and the need to require some specific permission to start the works.


8. Balcony plants
When we speak about balconies, the space is less but the charm remains the same: lovely views that naturally need a flower touch to enhance their beauty and to confer a great personality to the entire building.

Not by chance, among the balcony plants the winners are petunia cascades, geraniums, ivy and lobelias, rigorously to be positioned along the balustrades and to hang through suspended vases, which also optimise the available space, without taking up the outdoor walkable surface. Tulips, iris and primrose are more compact, bus still multi-coloured, framing the balcony profiles with a tidy heap of petals.

To create a third dimension, you may place on the ground – better in the exterior corners of the outdoor space – some vase balcony plants, characterised by a tall and thin silhouette: strelizia, kenzia and buganvillea are perfect for this purpose.