Apartment? Yes, but with balcony. These two words may nowadays reconsider real estate advertisements and reveal the way you intend to live your home, even before buying it.
Whether outdoor spaces increase the value and the appeal of a building is nothing new. However, in the last years the need to spend time in the open air has highlighted how these environments help improving life quality in terms of wellbeing, happiness and stress reduction.

Selecting the proper furniture is crucial not only to embellish the balcony, but also to define possible uses. Thanks to smart solutions, indeed, it may be transformed from a sheltered house extension into a roof garden with many combination possibilities both for in&outdoor. This is why, gathering tips and ideas for terrace furnishing is the first step to create a unique space where to find the comfort and the beauty we all need.

1. How to furnish a small covered balcony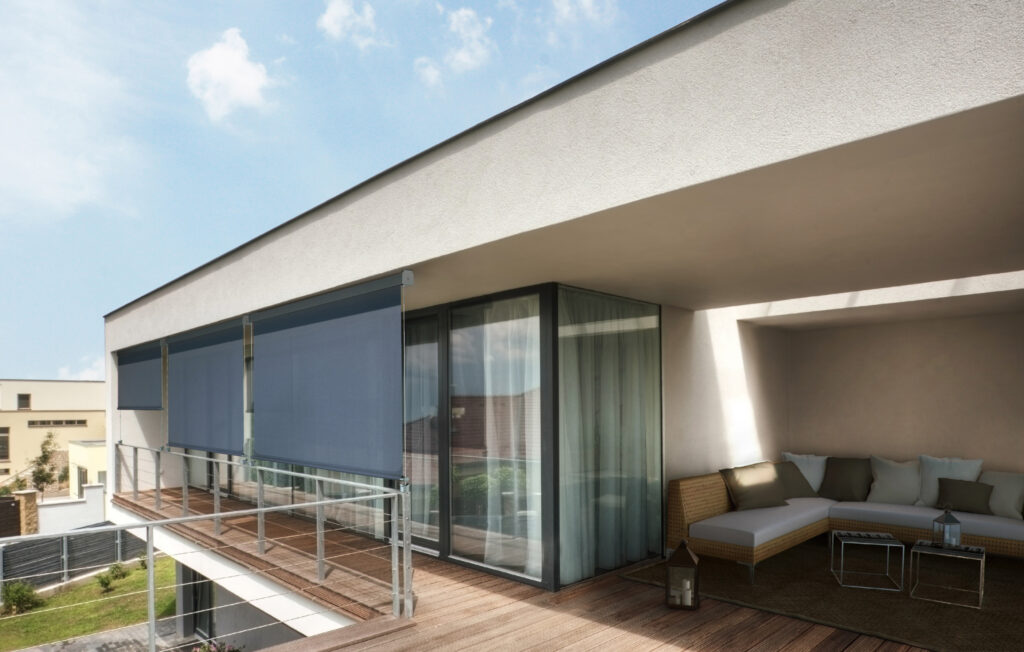 There is no need for large spaces to convert your own terrace or balcony into a cosy relaxation corner, but rather few compact and multi-use pieces of furniture are enough to enhance the available space without giving the impression to make it "crowded".

By furnishing a small covered balcony, the most efficient solution is to prefer furniture with simple and smooth lines, thus avoiding bulky pieces of furniture. With a classic set of tables and chairs, the balcony becomes the ideal room for having breakfast in the open air or working on you laptop; indeed a comfortable sofa or a recliner combined with a coffee table is enough to create a private relaxation area.
Folding, stackable or sectional furniture is then a good choice to make the most of small outdoor spaces. In the same way, walls, ceiling or railings can be used to further embellish the balcony with flowers, plants and lighting systems.
Although furnishing accessories' dimensions require special attention while furnishing a small covered balcony, there are no restrictions when it comes to style. On the contrary, indeed, creativity can be unleashed as for design, materials and preferred colours.

To add an extra touch of comfort and privacy – this latter especially sought-after when living in apartment buildings or residential complex with rather closely units – a good advice when furnishing a terrace is to foresee the installation of a drop-down awning.
Besides ensuring absolute privacy, this shading system allows to adjust the shading degree, thus improving climatic comfort indoors. Pratic solutions, in particular, are equipped with an elegant aluminium cassette that reduces the awning's volume once closed, resulting in an essential aesthetic and providing a relaxing evening lighting thanks to led stripes, integrated into the box.
2. Coverings for terraces
However, when the house overlooks the open sky, a good practice is to design its furniture staring from the covering, whose choice also influences the choice of finishes, furniture and accessories.

The first solution for terrace covering is represented by folding arm awnings: when installed on the outer building's wall, they provide wide shaded areas and protect the room underneath from strong sunrays as well as from moderate rainfall – should waterproof fabrics be chosen – thus being suitable for those who love enjoying the outdoors during the warm season.
Moreover, weather sensors or apps on smartphone can operate the most advanced models. Thanks to home automation systems, the opening of awnings can be operated remotely in order to adjust the shading degree according to sun intensity and prevent any damage caused by bad weather, even when you are not at home.

Oh the other hand, if the aim is to enjoy the terrace in any season and, why not, use it as a house extension then you can only go for a pergola. Thanks to their modular roofing and the possibility to protect the room by means of panoramic glazed walls, these refined aluminium structures are among the most efficient terrace coverings and are available with overlapping PVC cover or with sunshade blades, retractable of adjustable from zero up to 140 degrees.
Bioclimatic pergolas are specifically conceived to furnish the terrace for a peerless climatic comfort, generated by blades' operation by using natural lighting and air circulation.
With bad weather, the covering provides the terrace with a cosy shelter: closed blades convey rainwater along outer gutters, thus protecting furniture and plants beneath the pergola.
3. How to furnish a big balcony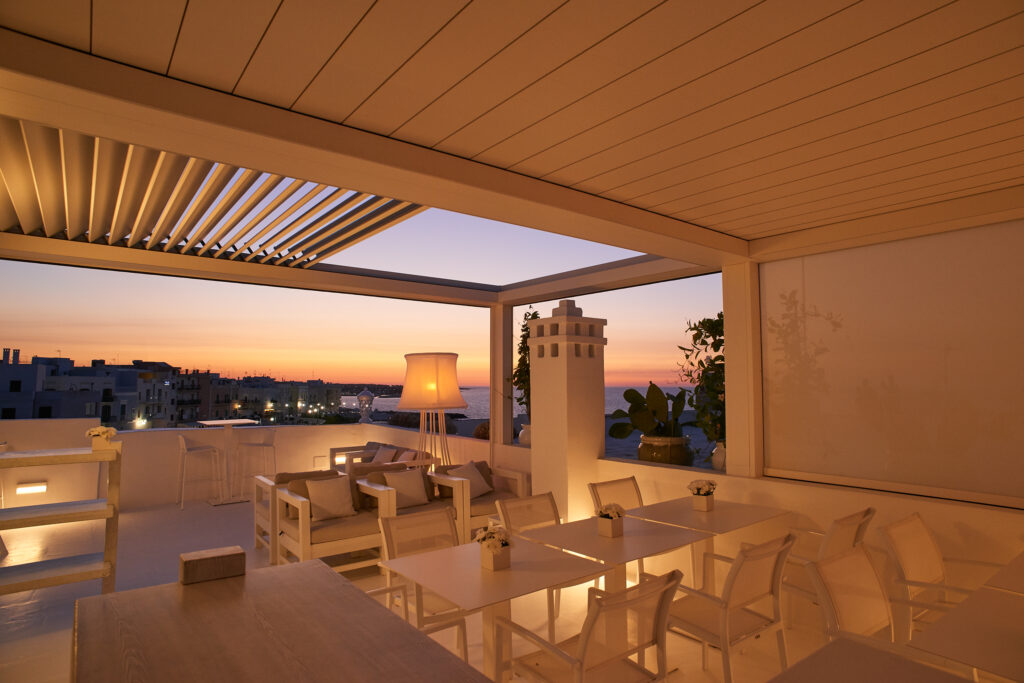 Larger surfaces naturally open up more configuration and utilisation opportunities. This is why, compared to a small balcony, furnishing a big terrace can sometimes seem a little more complicated.

For an effective result, the first step is to plan the division of any room. A large open space such as the balcony of an apartment requires a precise configuration including independent and interconnected areas, functionally developed.
Among the most common spaces, there are of course living and dining rooms that often house modern outdoor kitchens with barbecue, wood-fired ovens and highly appreciated cocktail bars. In addition, if the terraces to be furnished is sufficiently large, relaxations areas with sun beds and deck chairs together with small pools and Jacuzzis can arise.
To create a not too high-impact room separation, but at the same time able to offer a pleasant privacy, it is possible to use large potted plants or refined room dividers matching to be selected in the material that best suits the style of your flat.

Among the options to outline the environments there are outdoor coverings: especially pergolas provide authentic rooms in the outdoors – opening towards the landscape or completely protected by glazed walls – featuring customized configurations reaching great dimensions simply by placing several modules side by side. In this way, it is possible to shade the whole terrace surface or just a part of it to have a section completely sky view.

Once spaces and their covering have been defined, the only thing to do is select the most suitable furniture in accordance to house's design and need of use.
For those who love welcoming guests, the must-have items when furnishing a big terrace are mainly an elegant and comfortable padded seat and a table suitable to seat all guests. A stylish detail? An outdoor fireplace or brazier, around which you can gather and enjoy the open-air wellbeing in any season.
4. Furnishing a penthouse terrace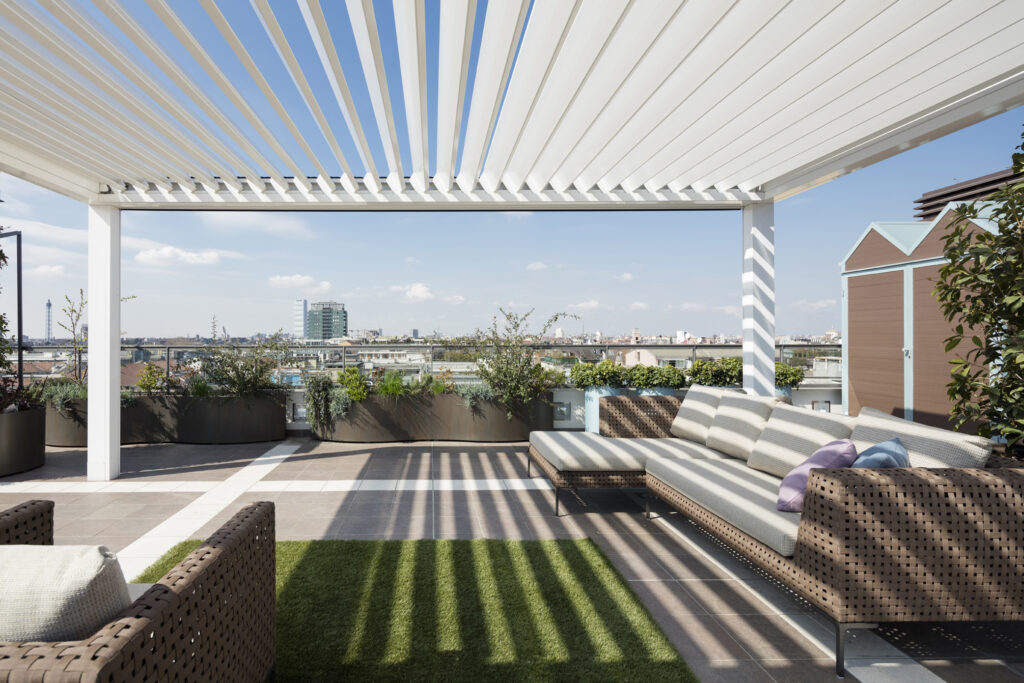 Of all greater outdoor spaces, the rooftop is undoubtedly the most coveted and suggestive design terrace: an authentic second home from which to enjoy an extraordinary view on the city skyline.

Among the trends of the moment, rooftop gardens are proving very successful for both the chance to have a real garden directly in your own apartment as well as for environmental and energy benefits provided by the so-called "green roofs" that contribute to building's thermal insulation and also improve air quality.
Obviously, furnishing a penthouse terrace with this solution requires a more frequent maintenance and a special sensitivity in style, which must be consistent to the context through pieces of furniture and accessories recalling the natural ambience of the garden.

For those preferring urban atmosphere, instead, the inspiration to be followed is the one of the most charming metropolitan penthouses. Particularly sought-after, these designer terraces revive all the comfort of domestic rooms in the open air with an essential and trendy aesthetic.
Here, self-supporting bioclimatic pergolas give life to a sheltered and cosy corner to be set up anywhere on the rooftop. For a truly original look, then, Pratic gives the chance to customize your own covering with glass walls in smoked, glazed or mirrored finish; this latter is able to make the penthouse terrace even more exclusive, since it ensure total privacy.
5. How to light up a terrace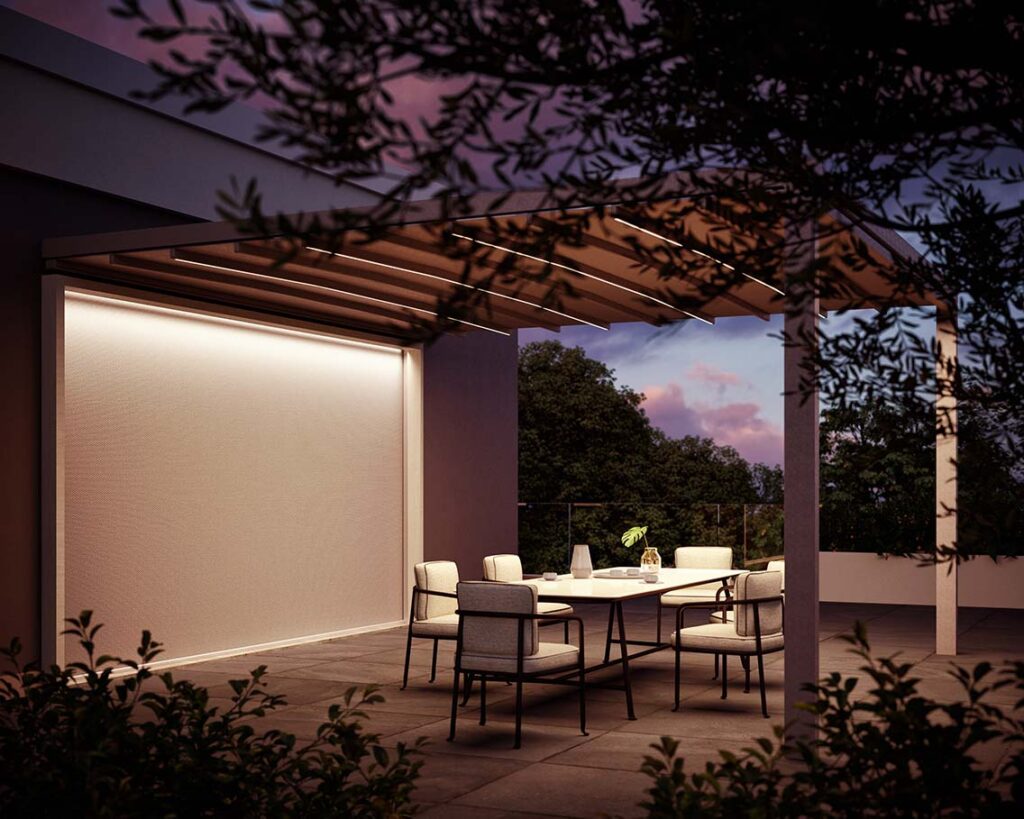 The outdoor in any form, hence, yet also at any time of the day thanks to the proper lighting. There are plenty of ideas to furnish the terrace of an apartment in terms of evening lighting by creating the perfect combination of functionality, soft atmosphere and light comfort.

To light up a terrace, first of all, factors related to weather exposure, humidity and changes in temperature need to be taken into account and consequently sift through solutions designed for outdoor use only.
The most cutting-edge solutions are LED-lights: they use less energy and are available in many different configurations to best match the style of your outdoor area. Highly popular are spotlights: they can be freely placed along the terrace and allow the light beam coming from the covering, the flooring or plants to be regulated for a suffused and cosy atmosphere. Timeless as for geometric shapes and design are then wall lamps, lanterns and floor lamps. Lastly, strings of small light bulbs lighting up the balcony for a romantic and relaxed ambience are increasingly gaining more and more interest.

Besides outdoor lamps, however, it is possible to illuminate a terrace by means of LEDs fully integrated into shading systems such as awnings and pergolas: a must-have option in any Pratic collection.
In the first case, LED stripes can be placed into the supporting profile, into the cassette and/or into the front profile of the awning, thus creating practical light points that brighten the environment with the desired intensity. Likewise, Pratic pergolas are equipped with dimmable RGB LEDs installed onto the structure's profile whereas elegant warm-white spotlights find space along sunshade blades and uprights.


6. How to furnish a seaside balcony
Having a sea balcony means being able to enjoy clean air and pleasant salt breeze at any time: a real panacea for well-being, yet not so much for outdoor coverings and furniture, since these are more likely to be subject to wear and tear as well as corrosion near coastal areas.

For this reason, when deciding to furnish a sea balcony it is fundamental to select high-performance materials and finishes able to cope with the most challenging weather conditions. For seating, upholstery and textile accessories, the most effective materials are definitely water-repellent and mould-resistant fabrics, along with polyester and rope weaves. With regard to furniture and finishes, however, it is preferable to go for bamboo wood, stainless steel and aluminium; the latter is particularly versatile and even more durable thanks to innovative processing techniques optimising its performances.
This is the case of Pratic awnings and pergolas that for the coating of aluminium components relies on the certified quality of Qualicoat Seaside pre-treatment and Class 2 powders. The combination of these two elements ensure better resistance against UV-rays, saltiness and humidity as well as longer-lasting colour brilliance.

As for colours, the most suitable ones to furnish a sea balcony are still bright and clear ones, first and foremost, white and écru to be combined with light accessories and adornments in more vivid nuances such as light blue, yellow or coral red.

7. How to decorate a terrace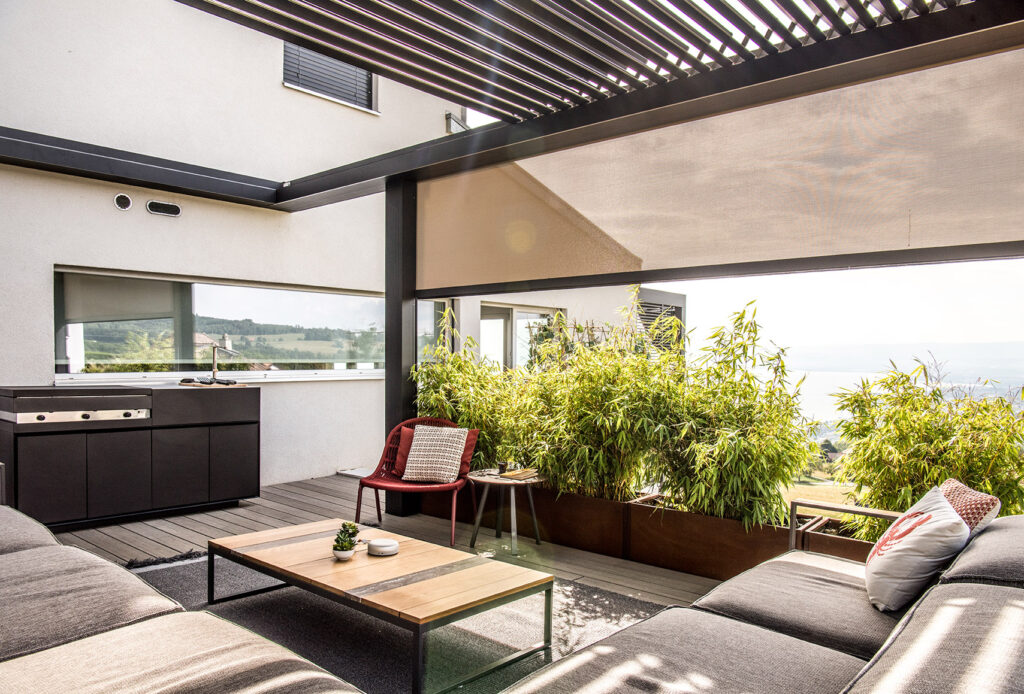 The colour palette is in fact one of the first elements to consider when decorating a terrace: depending on building and apartment's nuances as well as on the surrounding landscape and the ambience you intend to obtain, it is possible to choose the colour most in harmony with the solar shading and the outdoor furniture.

Giving life to refined and welcoming spaces is also a matter of finishes. In fact, some of the most precious tips for embellish a terrace regard flooring, railings, window fixtures and glazed walls that are to be properly coordinated for a carefully detailed effect. For instance, outdoor ceramics, if combined with steel fixtures, with lean shading systems made of aluminium or with a palette of white and grey shades, provide for a modern allure, ideal to furnish a terrace of an apartment with an essential yet metropolitan touch.
Likewise, wooden floors, the use of natural materials and textural colours, perhaps combined with an awning in the same colour recall an organic design, hence giving space to a small green corner to be enjoyed also in the city.
8. Terrace furniture
Once the covering and finishes have been chosen, it is time to proceed with terrace furniture for your own apartment. Opting for furniture matching the indoor style is certainly a great tip to embellish the terrace and create continuity with houserooms, thus making the outdoors a natural extension of it.
However, it is worth remembering that terrace furniture, due to its collocation in the open air, should be chosen among the outdoor furniture proposals made of waterproof materials, resistant to the most diverse weather conditions. This does not represent a limitation but rather a guarantee of quality and durability of the outdoor area, which can rely on a wide range of options.

In accordance with the available area, you may prefer well-structured furniture such as upholstered seats, full-optional kitchens or wide dining rooms to welcome guests. Among the various solutions for terraces, there are also more informal yet modern furniture accessories such as hammocks, swing chairs and poufs; folding or stackable terrace furniture prove to be highly suitable for smaller balconies instead.

9. Decorating the balcony with plants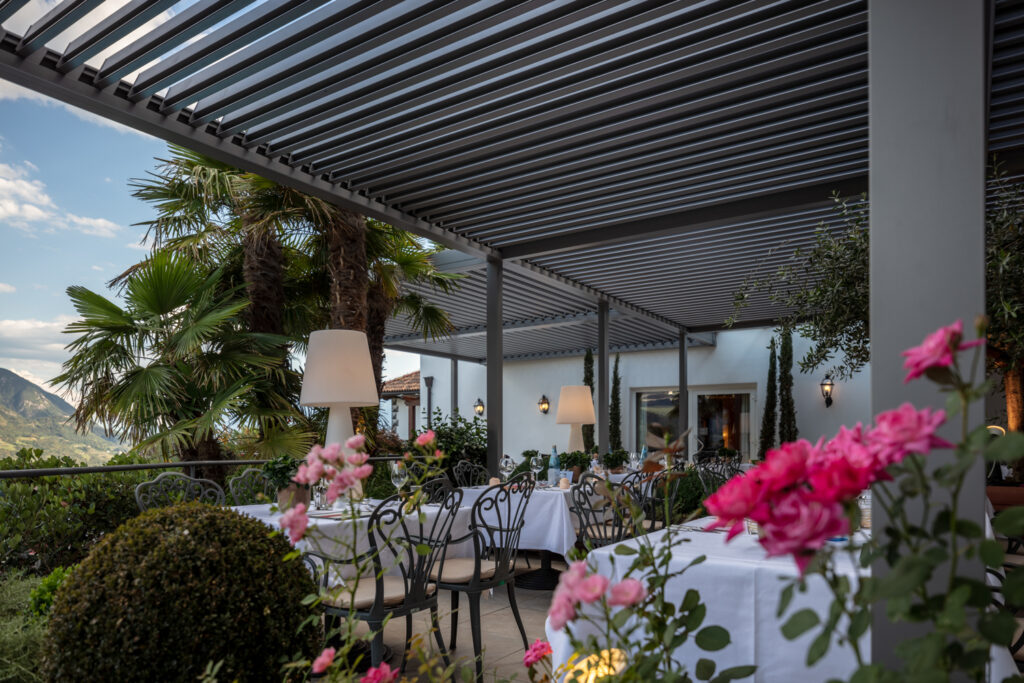 Living in contact with nature is essential to nurture one's wellbeing: the presence of green improves not only air quality but also mood and concentration. That is why, whichever floor your flat is on, the right selection of ornamental plants – and not only – cannot certainly miss.

As regards this topic, there is no lack of inspiration and various are the practical and original uses of these green accessories par excellence.
Furnishing the terrace with plants is indeed a good way to shade and ensure privacy. In particular, small trees and dense bushes can be placed along the balcony's perimeter to prevent the view from those outside, whereas climbing plants are ideal as a shelter for pergolas or as adornment of grating panels.

Besides decorating the terrace of the apartment, plants cool it down and improve thermal insulation of the indoors. The most suitable solutions for this purpose are green walls, which extend along the outer wall while offering a unique design and greatest practicality as for space used. Usually decorated with moss, lichen or blooming vines, they are home to fragrant vertical gardens suitable for herbs and small vegetables.

And if the terrace is too much exposed to sun, no worries: Pratic awnings and pergolas can be equipped with smart weather sensors allowing the covering to be operated according to sunrays and warm intensity as well as to wind or rain in order to shelter plants on the terrace also remotely.