Self-supporting pergolas are convenient and fast furniture solutions for the outdoors that allow to recreate unique spaces. An open-air summer living room or a cozy shelter if carefully designed, it will be the most suggestive space in the house. Gardens, terraces, penthouses, city centers or shops: any open-air space can expand its possibilities with a self-supporting or wall mounted pergola for the garden.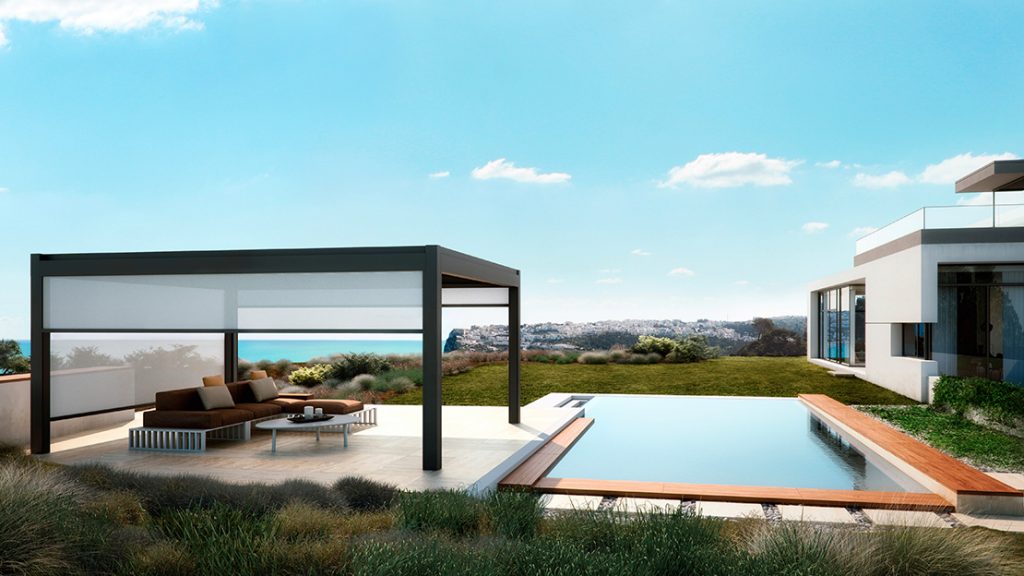 Thanks to the combination of design and refined materials, from the timeless wood to the more modern aluminum, you can get several solutions of pergolas that create real outdoor living rooms. Closure technologies, both vertical and horizontal, of self-supporting pergolas allow different uses based on need and freedom to enjoy the spaces, both open-air and shielded by a modern shelter.
Any type of house with an open-air space can be enriched by a self-supporting pergola. Since these structures are considered light, they are not subject to any building permit, but they are submitted to condominium and municipal regulations as regards dimensions and appearance. The installation of a pergola is above all a choice that shows good taste, for this reason Pratic offers many models, to meet everyone's need.
1. Self-supporting pergolas: aluminum or wood?
Aluminum self-supporting pergolas with PVC canopy can meet any aesthetic need, as regards both color and section of the components, even for slender profiles. For the coating of the steel, Pratic offers a wide range of colors, in order to meet everyone's need, from light to dark colors. All Pratic components are coated singularly in the factory, thanks to an avantgarde system in terms of quality and eco-sustainability. The powders that are used guarantee color brightness and higher resistance to UV rays, salt and humidity. Respecting the environment and human health, for the coating process no solvents are used and powders are almost 100% recoverable.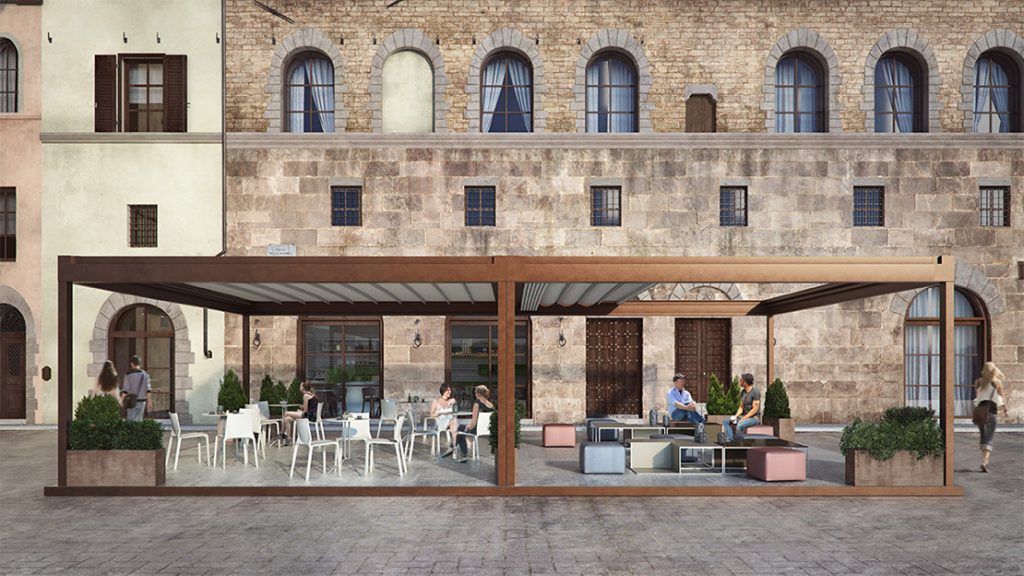 Wood self-supporting pergolas are designed for those who love essential nature and warmth of materials. The laminated nordic pine structure of wood pergolas preserves its beauty over time thanks to specific treatments. The coverings of wood pergolas can be made of PVC – fireproof, blackout, waterproof and highly stable – or of high quality fabrics for shade.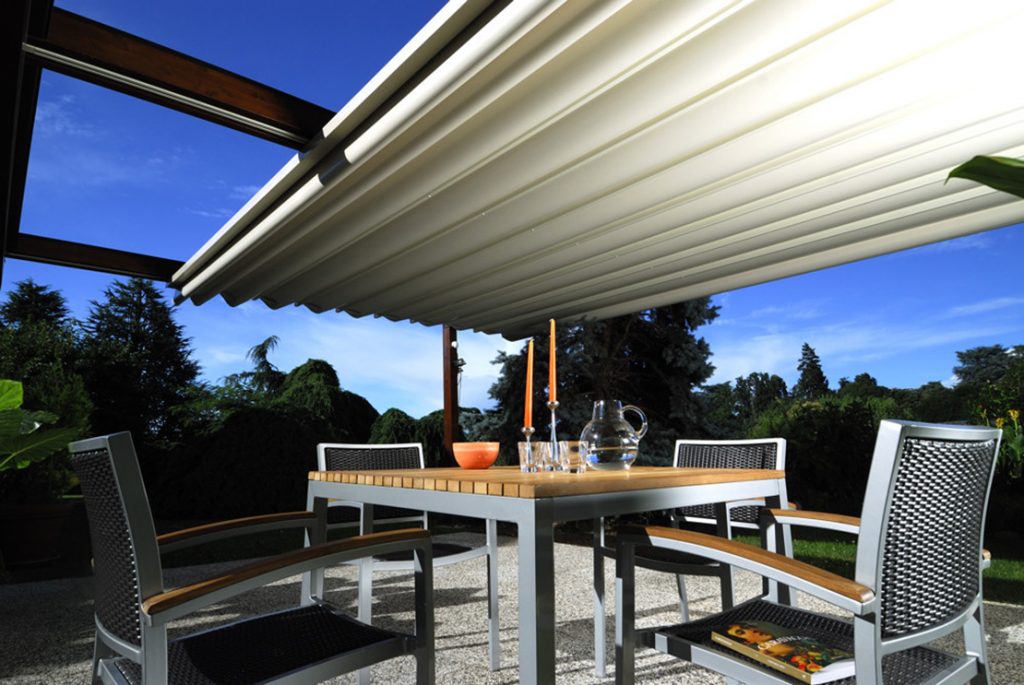 2. Self-supporting pergolas for the garden
Over the centuries the pergola for garden has preserved its original function, that is an outdoor space designed to create shade in a specific spot in the garden. If there's a lot of space, self-supporting pergolas are ideal solutions for the garden, since they can transform a simple open-air space in a place of comfort and beauty. Solid and resistant, the pergolas designed by Pratic R&D team are the object of in-depth engineering calculation in order to determine the degree of wind resistance in reference to Beaufort scale, which identifies the potential meteorological conditions and the consequent effects produced by the wind.
Scenographic and technologically advanced, the solutions of garden pergolas can be made of metal or wood as regards the structure and they can have many solutions concerning the covering (pvc or blades). Here the benefits in brief:
Light and Comfort: pergolas allow to modulate direct or indirect light depending on sun orientation and the desired light intensity thanks to adjustable/retractable blades or retractable cover.
Suggestive spaces: pergolas can be equipped with Led line available in white color or RGB thus making the break at night pleasant and relaxing.
Perimeter closures: for a higher perimeter protection and privacy, pergolas for garden can be completed with drop-down awnings integrated into the structure.
Panoramic glass walls: to live the garden even in the mid-seasons and to be protected against wind and rain, the structure can be equipped with sliding glazings Slide Glass.
Minimal design: a distinctive characteristic of Pratic projects: all structures are characterized by a linear, refined and clean beauty, without visible fixing components and with integrated telescopic brackets.
3. Free-standing solutions: benefits of pergolas in residential and urban spaces
Since it is an independent solution, the self-supporting pergola allows to create an outdoor living that may be in continuity or completely detached from the house or the place it refers to. By choosing a furniture style that differs from the one in the house, you can create a truly original space.
Thanks to the shape of this particular type of pergola, it's possible to build even very big structures, which can protect not only open-air living rooms but also swimming pools, Spa and restaurant areas. It's recommended to make sure that the surface on which the structure will be placed is flat and, especially in case of terraces, that it can support the load of the pergola.
Free-standing pergolas are a solution to recreate suggestive spaces, characterized by a high privacy, especially in case of restaurants or meeting places.
Bioclimatic pergolas are modular structures that easily adapt to the architectural context of the house and they are also excellent for commercial activities in need of an outdoor space to increase seats, always having design and quality in mind.
4. Perimeter closures of self-supporting pergolas
Side Slide Glass closure is a real glass wall which offers protection, light and the best view toward the outdoors. There are many closure solutions for the glazing, and all of them are functional and aestethic.
Closures perfectly integrate into the supporting structure of the pergola, becoming almost imperceptible. Invisible technologies make pergolas dynamic,since they can transform if necessary: from an open to a protected space. For those who prefer a lighter solution, there's Raso,the perimeter drop down awning made of screening or blackout fabric.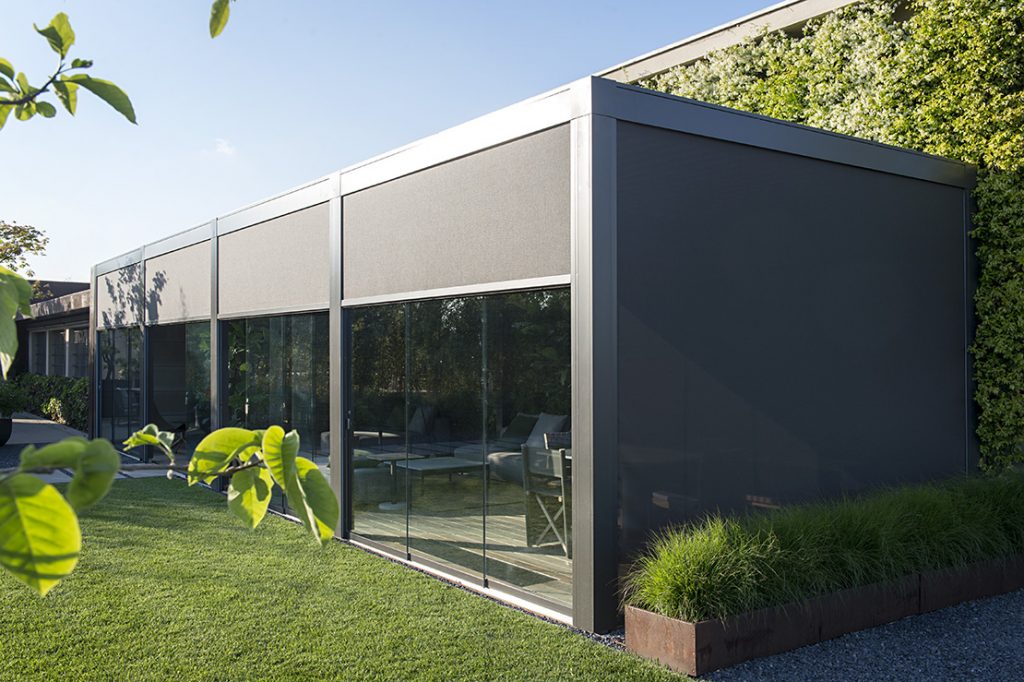 5. The coverings, blades or PVC canopy
As the name suggests, bioclimatic pergolas are characterized by the natural climatic comfort that they offer: this is the feature that allow those who want to optimize terraces, gardens and rooftop to appreciate these solutions. Opera, Vision and the pergolas of Brera Series have adjustable shading blades that allow to obtain ideal conditions in terms of ventilation and light, just by using the elements that there are already in the natural environment: firts of all sun and wind. Made of aluminum, these blades can rotate and it's exactly their variable slope that allow to modulate brightness and breeze as desired, thus creating the perfect conditions inside the bioclimatic pergola. In case of rain, blades close, while rainwater is conveyed through perimeter gutters and downpipes,  thus guaranteeing an adequate protection.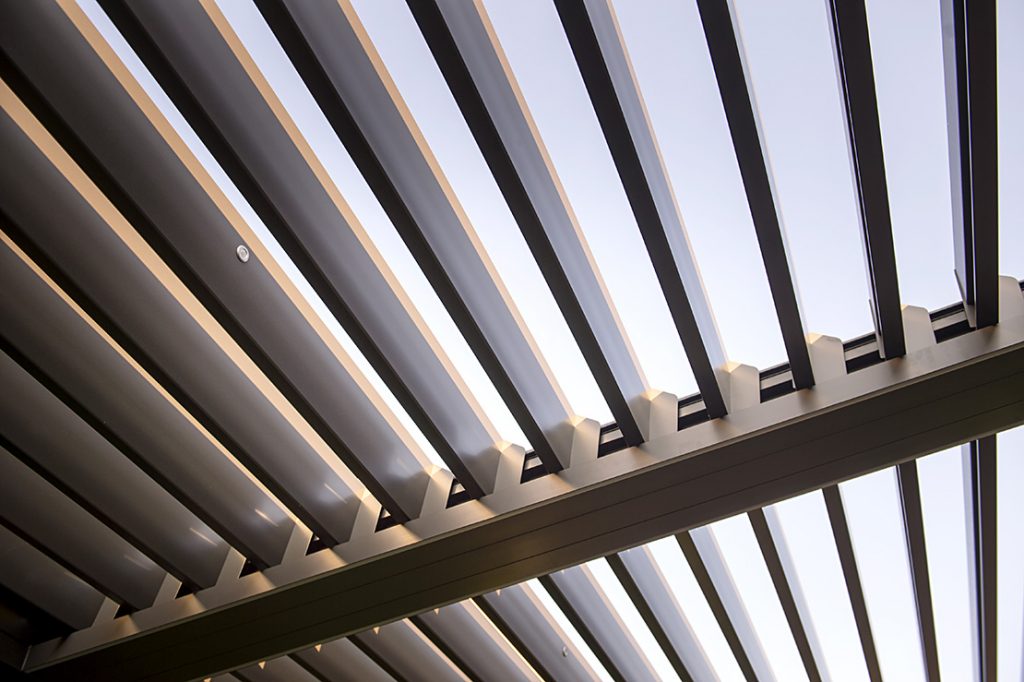 All characterized by essential lines, aluminum pergolas with PVC canopy stand our for their advanced technology and for the flexibility in design process thanks to replicable modules. PVC canopy, which protects against sun, rain and wind, opens and closes in a retractable way, by remote control, but above all it has technical characteristics that make it resistant to UV rays, to bad weather and temperature leap, hot and cold.