A house with a garden is a real resource of well-being and functionality, but it often happens that you are not able to take full advantage of the efficiency of your own green oasis, living it only for limited periods of the year and with some difficulties.
Most of the people who own a garden use it only during spring or summer, running into problems such as excessive temperatures, poor ventilation, prolonged exposure to sunlight and impossibility to enjoy the outdoor space in case of uncertain weather conditions.
Garden pergolas are designed to solve these problems in a simple and elegant way, taking advantage of the best technology and offering great comfort, allowing you to enjoy your outdoor space at any time of the year.
The wide range of models available allows you to adapt the garden pergola to the needs of your house, thus creating a new versatile space immersed in nature.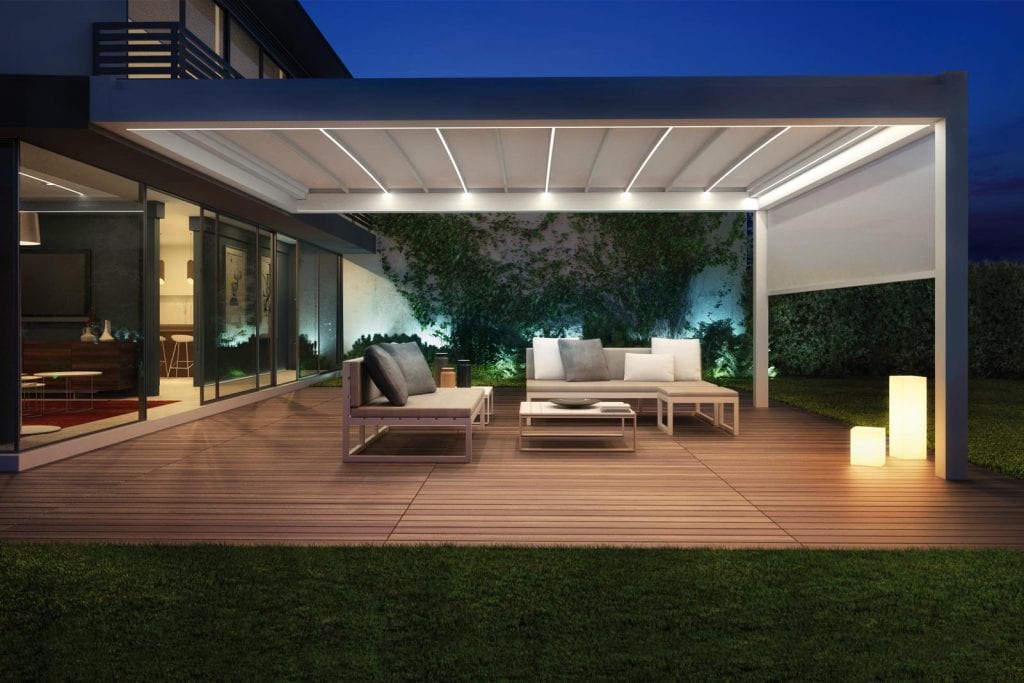 1. Garden pergolas
The garden pergola has always had a timeless charm, which is associated with the great comfort of being able to immerse oneself in the outdoor environment while remaining perfectly sheltered.
The continuity of indoor and outdoor spaces offered by garden pergolas is today masterfully reproduced by modern and sophisticated structures that can be leaned against the wall, which allow you to enlarge the rooms of the house in a coherent and harmonious way.

Pratic pergolas are custom-made for each project, so as to adapt at best to the needs of the building: this means not only choosing the best extras, but also choosing ideal color and perfect size.
Thanks to the glass walls of Glass Series, it is possible to extend the use of garden pergolas throughout the year, converting the environment into a veranda or an additional comfortable and versatile room, as it is protected from cold temperatures and bad weather.
2. Self-supporting garden pergola
If, on the other hand, the need is to set up an independent and sheltered space, create a poolhouse or, when it is not possible to fix the outdoor roofing to the wall, the solution is represented by self-supporting garden pergolas.
These roofings can be easily installed in any outdoor space, using the existing flooring or choosing customized solutions, such as Set aluminum platform, designed by Pratic.

Thanks to a special compensation system, Set allows the installation of the self-supporting garden pergola even on sloping or uneven ground, thus guaranteeing excellent stability and better ventilation and thermal insulation. Moreover, the walkable surface can be customized with any material or finishing, in order to make your self-supporting garden pergola even more comfortable and refined.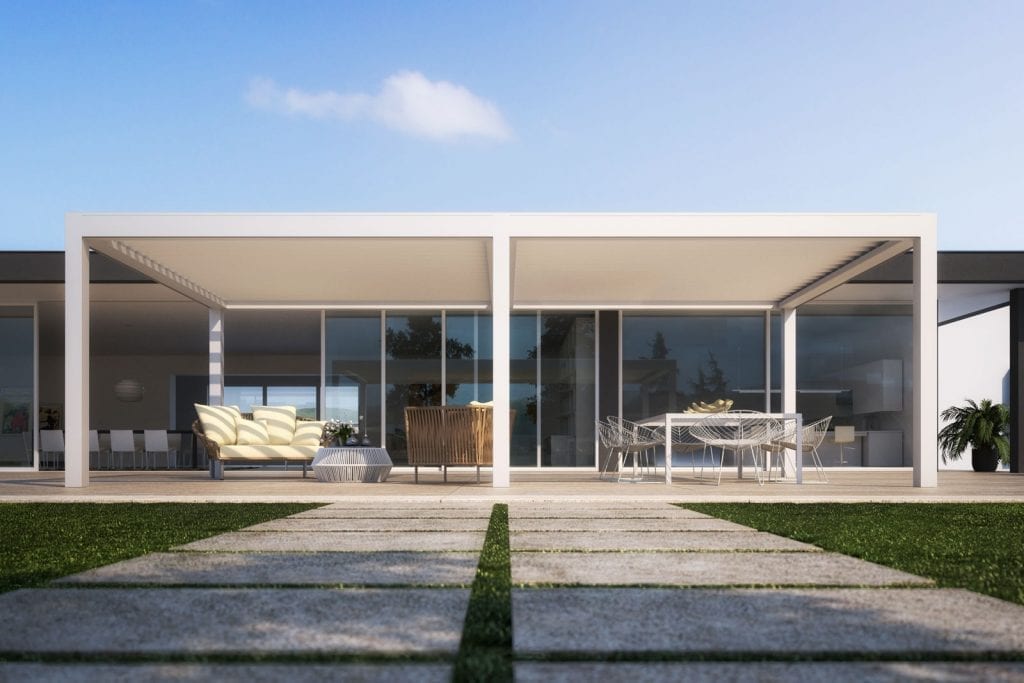 3. Aluminum garden pergola
Lightweight, eco-friendly and totally recyclable, aluminum garden pergolas are among the most appreciated and requested models thanks to their functionality and extraordinary beauty, essential and modern.
The use of this material allows the pergola not to rust and to maintain flawless its structure even after many years of exposure to the most demanding weather conditions.

Pratic aluminum garden pergolas can be customized in terms of color: you can choose your favorite color from among over thirty intense shades and RAL colors that can be made to measure. The coatings used are nontoxic and nonpolluting, as well as Qualicoat Seaside Class 2 certified: this means that they are even more resistant to bad weather, UV rays and saltiness and allow the brilliance of the color to remain unchanged over time.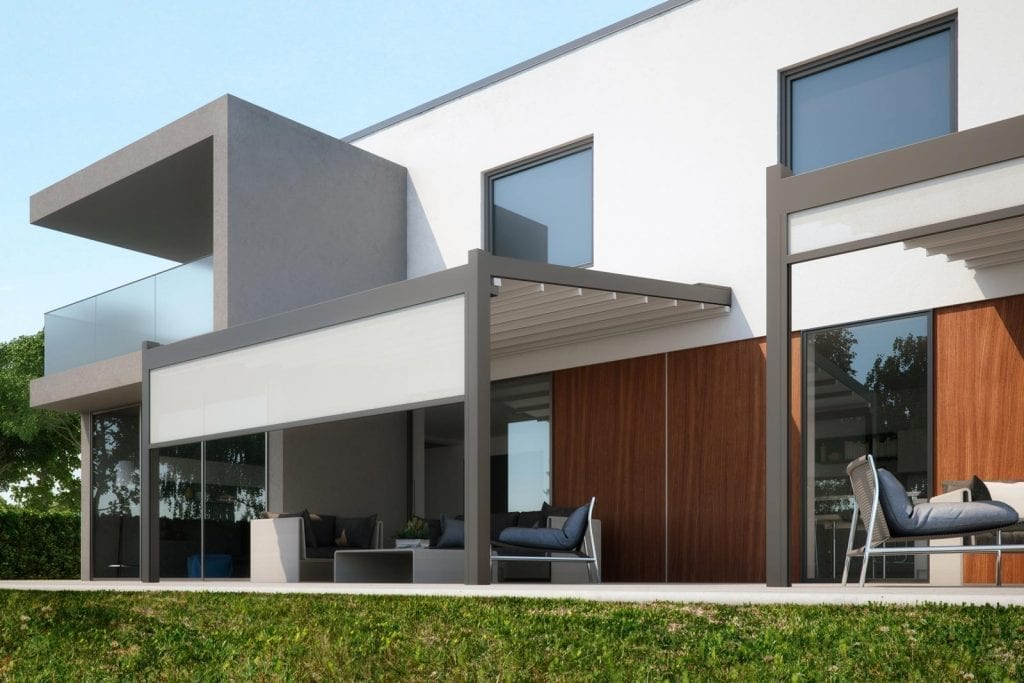 4. Wooden garden pergola
Give a warm and refined touch to your home, offer an outdoor view to farm houses and classic cottages or combine different materials in an original way: wooden garden pergolas offer the right compromise between timeless style and contemporary design.

Made with a structure in Nordic pine wood only or with the addition of aluminum profiles, these garden pergolas can be self-supporting or can be fixed to the wall to simulate a classic pergola. The added touch of Pratic wooden garden pergolas is the possibility to adjust the blockout and waterproof PVC cover to manage natural light and temperature. Moreover, each wooden garden pergola can be equipped with glass walls, LED lights and vertical drop-down awnings for maximum comfort.
5. Bioclimatic garden pergolas
Bioclimatic garden pergolas represent the most advanced evolution of outdoor roofings, thanks to their ability to naturally regulate lighting, ventilation and temperature. These garden pergolas are in fact equipped with a cover with aluminum blades that can be operated by remote control, smartphone or voice command. According to the bioclimatic garden pergola desired, the blades can be adjusted from zero to 140° or can be retracted and packed into a small space and open the rooms not only towards the horizon, but also towards the sky. An additional benefit of bioclimatic garden pergolas is their resistance to rain, snow and wind: built-in weather sensors tell the blades when to close to protect the space below.

For its collection of bioclimatic garden pergolas, Pratic has conceived highly functional extras, such as perimeter and integrated into the blades LED lighting, Raso vertical drop-down awnings and glass walls of Glass Series. Moreover, for an even more immersive experience Pratic has designed Connect, the new bioclimatic garden pergola equipped with mirrored walls that reflect the landscape, keeping the interior space private.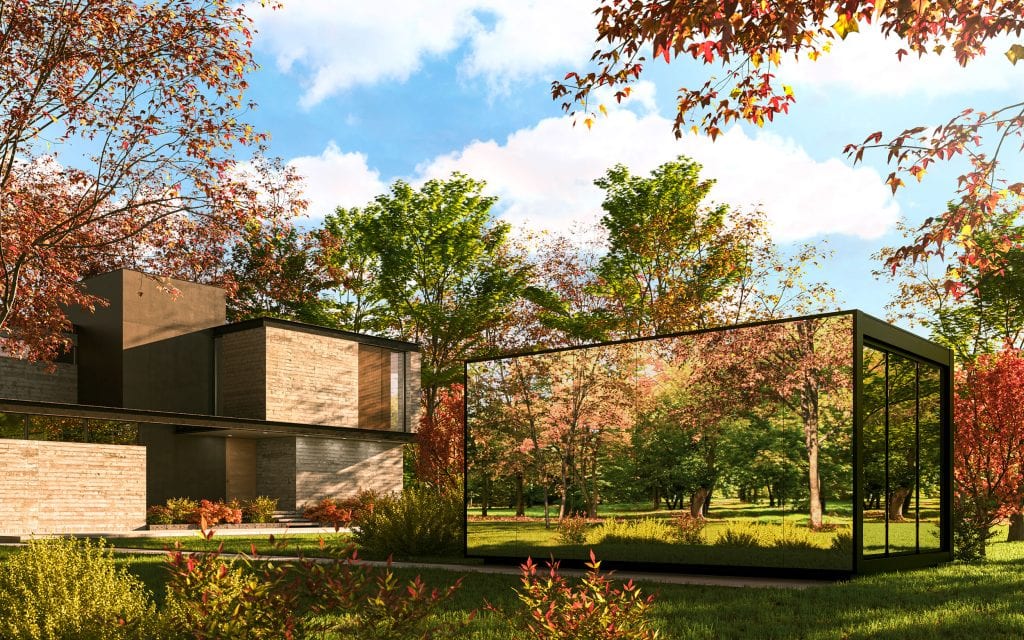 6. Garden roofings
In addition to self-supporting and wall-fixed versions, it is possible to use also different environments, such as recess and cavities, to create a comfortable and elegant outdoor space. This is possible thanks to garden roofings, which allow you to obtain the same benefits of a pergola, without having to install the uprights, for an even cleaner and simpler result.
Like pergolas, garden roofings can be bioclimatic or made with packable, waterproof and fireproof PVC covers. They can always be implemented with the same extras and the same home automation technology.
6.1. Roofings with sunshading blades

Garden roofings with aluminum sunshading blades allow you to enjoy the best benefits of bioclimatic technology. The rotation from zero to 140° or the sliding backwards allow you to create your own personal space of well-being in every season of the year, taking advantage of natural elements and therefore reducing energy consumption, emissions and costs of lighting and/or air conditioning. A saving also due to the insulation of the blades that, when closed, help to maintain the desired temperature inside the garden roofing.
6.2. Cover for garden pergola

An additional option for one's garden roofing is the PVC cover. Made with a special load resistance and designed to prevent rainwater runoff, garden pergola covers allow you to meet the shading needs of large outdoor spaces.
All covers for Pratic pergolas and garden roofings are equipped with cutting-edge automations, which allow the cover to retract by remote control. For a highly personalized roofing, it is also possible to choose between blockout, non-blockout or microperforated filter covers for garden pergolas, which can be integrated with LED lighting and elegant fabric undercovers.
7. Garden awnings
When the need for outdoor spaces is limited to the shading of particularly sunny areas or exposed to natural light for many hours of the day, installing a garden awning with retractable arms is the most effective solution.
These models can expand their coverage to create large areas of shade, thanks to the possibility of adjusting the motorized arms and the inclination of the awning, that can be customized in color and choice of high quality fabrics.

The T-Project line by Pratic offers models of garden awnings with a highly technological heart: the operation, as well as the integrated LED lighting, can be operated by remote control or by special weather sensors that, in case of rain and strong wind, activate the closure of the awning, providing for its winding inside the elegant protective box, designed to hide even the electrical components. A practical and design element, which with its essential lines can be installed with style in any context.