Large or small, the terrace brings the pleasantness of open air life to any floor of houses and flats. A precious and multifaceted space that can be easily transformed into an additional outdoor room to be used according to your needs and desires.
In fact, there are many terrace coverings designed to optimise these environments: not only awnings capable of creating perfect shading, but also avant-garde structures such as bioclimatic pergolas that allow the terrace to be opened and closed regularly according to weather conditions.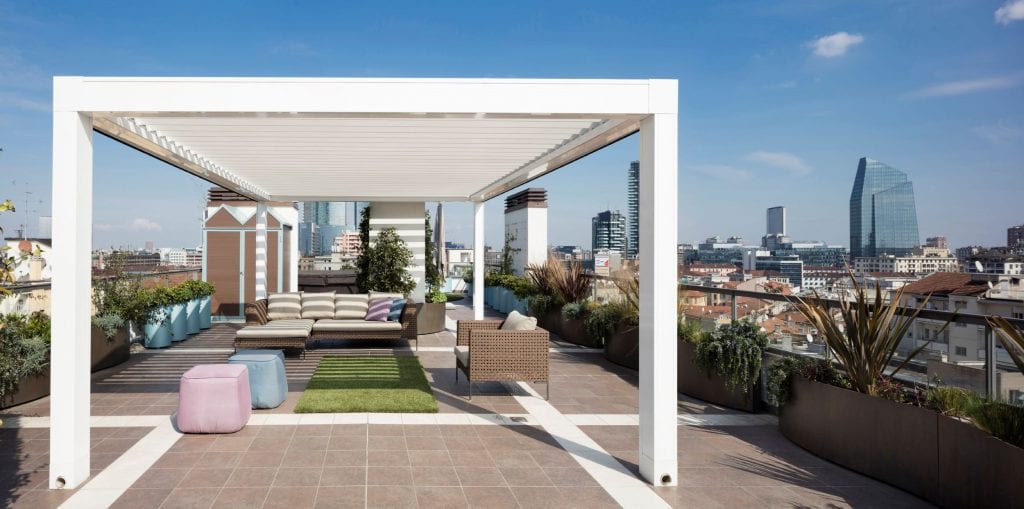 1. How to cover a terrace
Before choosing the most suitable terrace covering for your home, you need to evaluate some basic aspects, in particular:
What function do we want to give our terrace
In which seasons we intend to use it
What types of structures we can install in the available space
It is therefore essential to immediately identify the environment you want to recreate for your terrace.
From the outdoor living room to the dining room, up to the suggestive raised gardens, the possibilities are really endless.
However, in order to determine which terrace coverings are best suited to each context, it is necessary to evaluate how to use them. If you want to use the outdoor space only during the summer, a large and elegant awning might be sufficient, while if the project plans to create an additional room to be used throughout the year, then a pergola with glass perimeter closures might be the most suitable terrace covering.
Finally, the architectural features of the building, such as the size and height of the terrace, together with the regulations and permits indicated by the municipality of residence, cannot be ignored. Once these aspects have been assessed, it will finally be possible to identify the terrace covering that best meets every need and then continue with the choice of the model.
2. Mobile coverings for terraces
Among the many possibilities of mobile covering for terraces, the most common are undoubtedly awnings. Simple to use and quick to install, these terrace coverings always offer perfect sun protection, recreating a space of great comfort and privacy.
Retractable arm awnings are particularly effective for small or medium terraces in the open air. Wall mountable, Pratic's latest generation T-Way, T-Code and T-Hide awnings are equipped with an innovative arm tensioning system that makes it possible to reach even large dimensions, gaining plenty of shade. In addition to extension, the awnings can also be adjusted in inclination: all with a single touch on a smartphone or remote control, which also operates the LED lighting designed for evening use.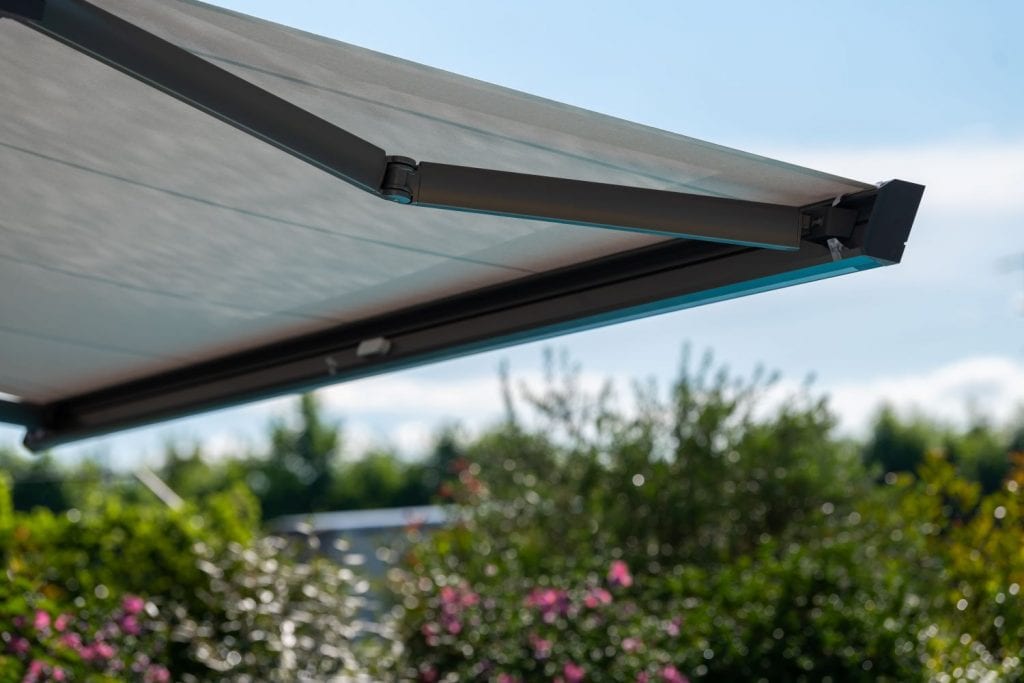 For shading those terraces that already have a horizontal covering, such as those positioned in the intermediate floors of a building, it is recommended to use drop-down awnings. These mobile terrace coverings make it possible to shield the sun and at the same time obtain an excellent result in terms of privacy. The T-Box, T-Square, T-Line awnings by Pratic are also equipped with the special Magnetic Lock System patent which allows the perfect tensioning of the fabric at all times in any opening position. Also in this case, the movement is by remote control and, like all the awnings of the T-Project family, the rewound cloth is protected by an elegant aluminium box that also contains the electrical components and LED lighting.
3. Aluminium outdoor coverings
The perfect compromise between opening and protection, natural light and shading, ventilation and temperature maintenance is represented by bioclimatic pergolas. These innovative outdoor aluminium coverings are in fact able to completely transform the face of any terrace, making it usable in any season and in any weather condition.
The Pratic pergolas are equipped with a covering with adjustable and retractable sunshade blades that allow natural lighting and ventilation to be adjusted to achieve maximum climatic comfort at all times. In case of rain, instead, the blades close hermetically, protecting the internal space and allowing rainwater to flow under the pergola, through a system of perimeter gutters hidden inside the uprights.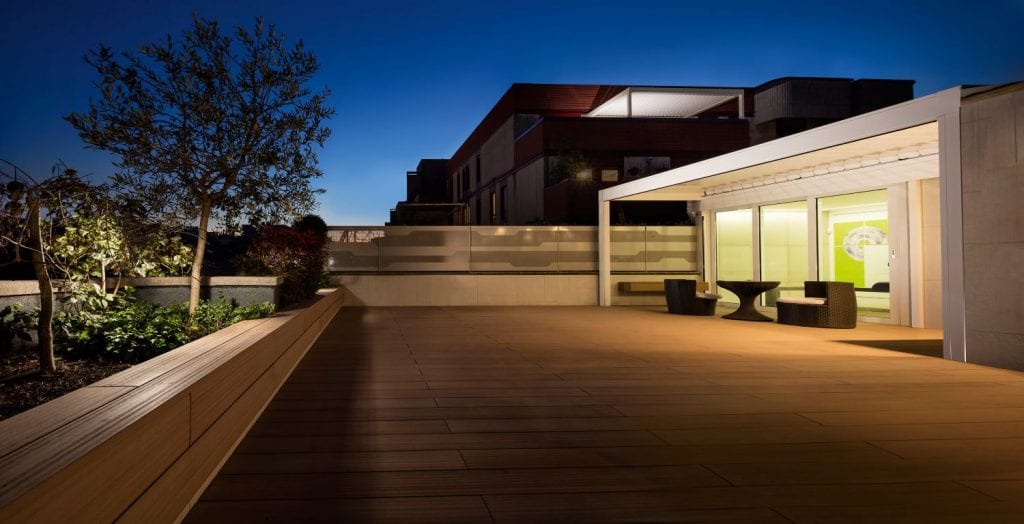 Pratic bioclimatic pergolas are outdoor aluminium structures that can be installed in different ways, depending on the needs: they can be positioned inside a niche, leaning against an existing wall, or inserted in the centre of the terrace, thanks to an elegant and minimal self-supporting structure. By flanking several modules, even of different sizes, it is then possible to create the ideal configuration for the covering of each terrace, always customisable with your favourite colour and a wide selection of optional extras.
Among the most used accessories there is no lack of perimeter LED lighting or integrated with the blades, together with the glass closures which, thanks to their insulating properties, make the open air space pleasant all year round.
4. Wooden coverings for terraces
Together with the simple and elegant aluminium solutions, the world of outdoor structures also offers refined wood variants, perfect for environments with a warm and classic design. The wooden terrace coverings designed by Pratic are made with a Nordic laminated pine structure, skilfully treated to keep its beauty and qualities intact over time.
Also in this case, it is possible to customize your terrace cover with the desired options, such as lighting, glass perimeter closures and remote control movements. The covering, on the other hand, is different, with two possibilities depending on the needs of use: a filtering fabric for sun screening only or in highly resistant PVC cloth, designed to protect the space below from rain and bad weather.
5. PVC coverings for terraces
Combined with wooden or aluminium structures, PVC terrace coverings are the most popular and economical option. Unlike bioclimatic pergolas with sunshade blades, terrace coverings with PVC cloth allow for different lighting and ventilation settings. This type of mobile covering can in fact be wrapped to open the view to the sky, while with the cloth stretched out, the structure enjoys excellent sun, rain and wind protection.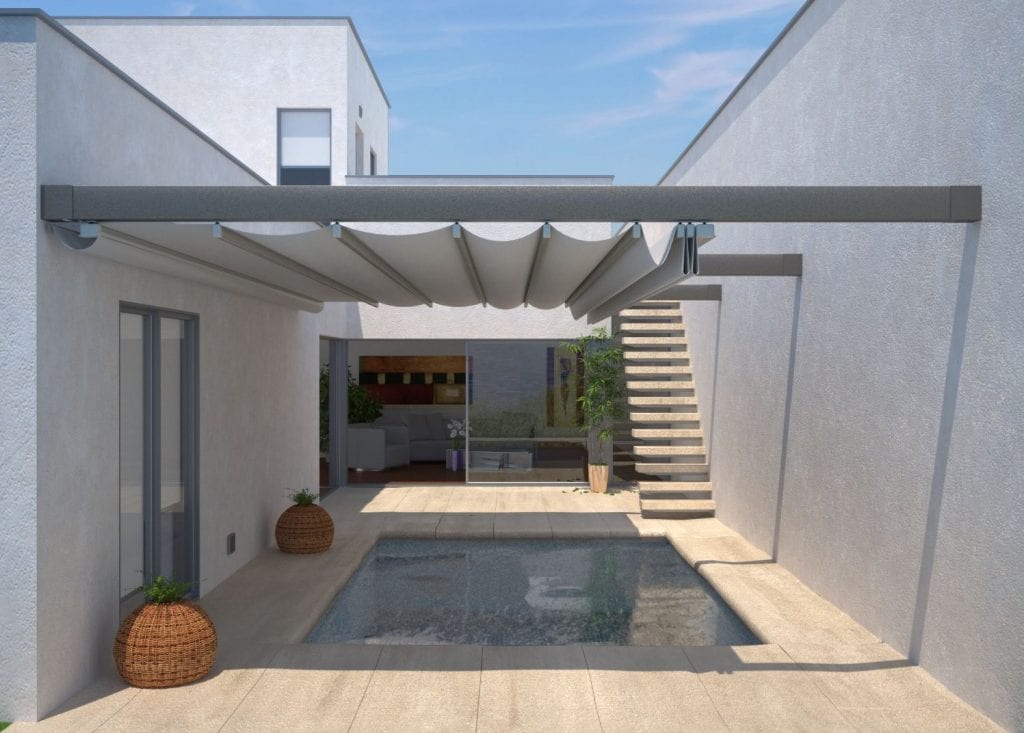 The PVC fabric is in fact particularly suitable as a mobile outdoor covering because of its resistance and water resistance. The Tecnic covering, used for Pratic's wooden and aluminium pergolas, is guaranteed fireproof, stain-resistant and UV-resistant, as well as being equipped with a special drip-proof device that prevents any water flow.
6. Verandas for terraces
With the right terrace covering, every outdoor space can be transformed into a welcoming and functional outdoor veranda. In fact, it is sufficient to install special perimeter glazed sections to make the environment easily exploitable all year round.
Pratic's Glass Series tempered glass closures can be installed on the structure of the pergola or directly on the wall, with the aid of discreet and refined guides that allow the terrace veranda to be opened whenever you want to enjoy direct contact with the surrounding landscape. During the winter and in case of rain, on the other hand, the panoramic windows guarantee perfect thermal insulation, as well as protection from infiltration and strong wind.
7. Photos of terrace coverings
In front of an unfurnished terrace, it can be difficult to imagine the result you want to achieve. An always valid advice is to let yourself be inspired by some image that reflects, in the characteristics and style, the space of your home.
Here then are some photos of terrace coverings, from which you can draw interesting creative ideas.