The concept of garden as a secondary room usable only during the warm season is now making way to completely new interpretations and possibilities of use, which see the green component regaining a key role in domestic environment.
Furnishing a garden with the right solutions represent an opportunity to enhance the property, extend the available surface and improve the comfort of those living there. Such outcomes can be be achieved through a harmonic combination of plants and garden furniture giving shape to charming environments, from which you can benefit whenever you wish.
Summary
1. How to design a garden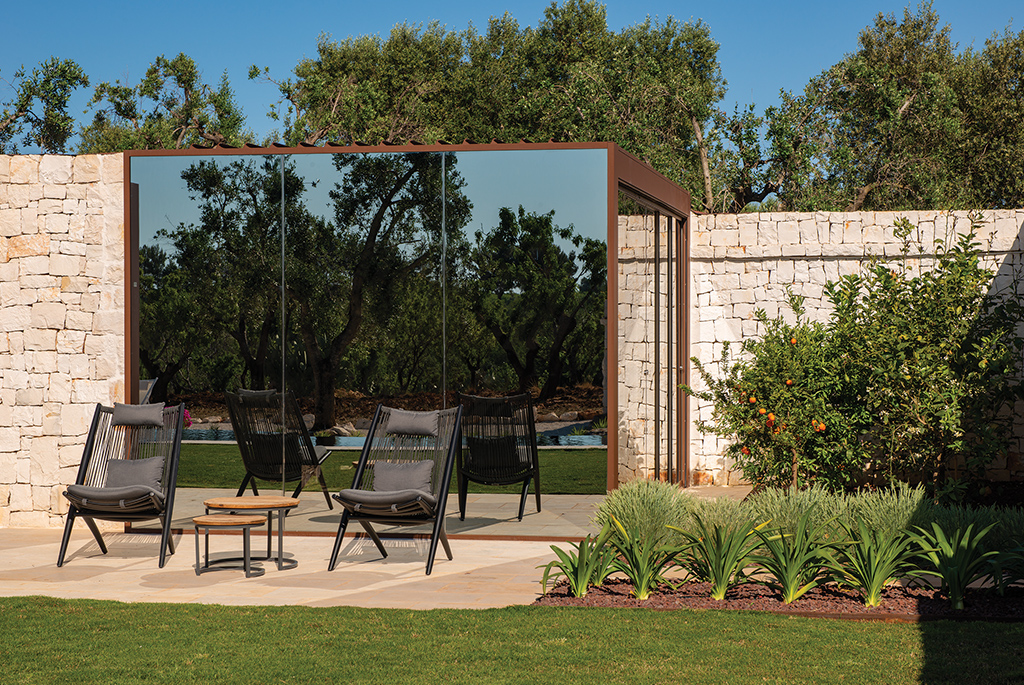 Exactly as for interior design, when designing a garden, the extension and the layout of spaces should be taken into account as well as the style most in line with the surroundings and the intended use of your own outdoor space.

To orient yourself in the multitude of garden design ideas, it is a good practice to start from surface segmentation: first assign each area a specific purpose and choose whether to opt for a seamless expanse of grass or to foresee floorings, platforms and half-open areas, in which to place the favoured furniture. The latter option is particularly effective when the aim is to replicate indoor rooms such as living and dining rooms or kitchens outdoors, which will thus have a flat surface on which to arrange the pieces of furniture and in the most complete versions benefit from a total protection from sun and rough weather, similarly as for pergolas and verandas.

Garden furniture shall be positioned in balanced way according to the building's configuration and the needs of use. Hence, dining rooms and outdoor kitchen will be even more practical if connected with the interiors of the house through sliding glass doors or doorways leading to the living room. On the other hand, by designing the garden, living and relaxation rooms are suitable to be placed nearby swimming pools or in green areas, thus offering greater privacy and an optimal light exposure. Lastly, even the least usable spaces may unveil unexpected potentialities if they are turned into well-furnished service spaces, where to store all the outdoor maintenance tools.
2. Garden furnishing ideas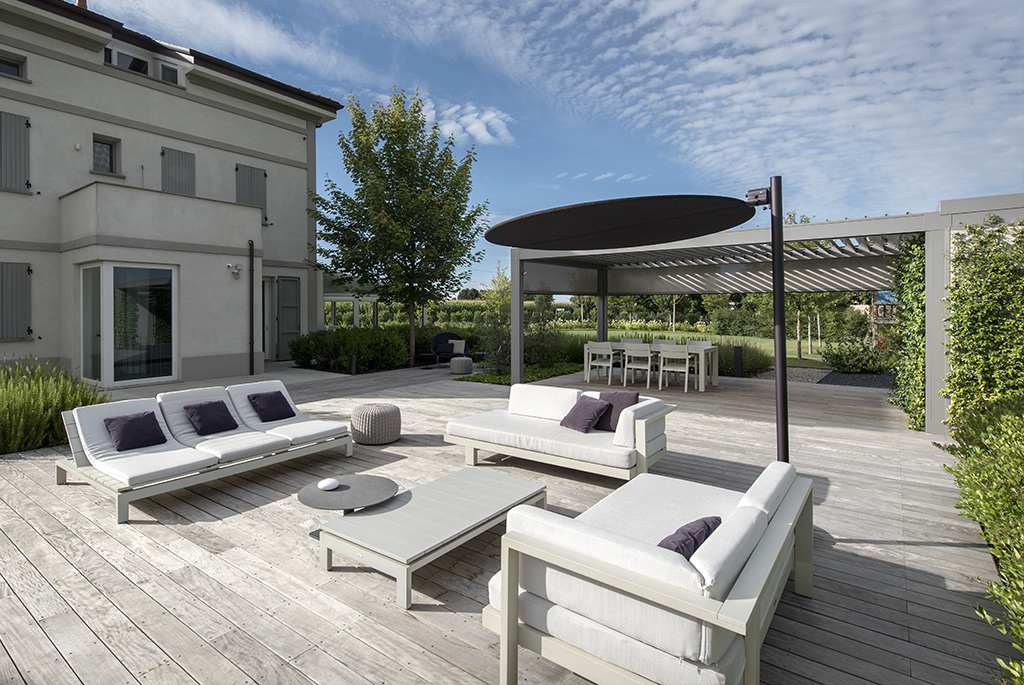 Defining the single areas of an outdoor space is useful when gathering garden furnishing ideas. In this way, it is easier to determine the indispensable sun covering, pieces of furniture and accessories for every space.

Among the most sought-after rooms outdoors, there is the living room: cosy, welcoming and high versatile even for small courtyards. In this case, garden furniture such as set of sofas and coffee tables cannot be missing and are to be selected in original and sophisticated combinations.
It is precisely comfort chairs that give space to great creativity, including chaise lounges and upholstered couches, perfectly suitable to be placed nearby pools as well as charming swing chairs and armchairs, resulting in intimate conversational corners.

When furnishing the garden and its conviviality spaces, the focus shifts instead on dining tables. Whether of solid and textured design, or slim and minimalist, these should be selected in the right size in relation to the spaciousness of the outdoor area and the number of guests you wish to accommodate. When it comes to combinations, however, one can choose benches or chairs, both coordinated or contrasting with the materials constituting the table top.

The choice of material is therefore a crucial aspect for garden furniture: it is important to narrow down the options to items suitable for outdoor use only, namely those resistant to bad weather and changes in temperature, preferably waterproof or fast drying in case of upholstered chairs and textile components.
Besides that, these determine the garden's style too, which has to match the house's aesthetics at its best, recalling its shapes and colour nuances.
Beware not to get carried away by trends: it is better to prefer a sober and coherent style without renouncing to a touch of originality, declinable with decorative accessories such as pillows, curtains and vases.

When furnishing the garden comfort and functionality must not be overlooked, but rather enhanced with addition of special furnishing accessories. First and foremost, lamps and lighting systems allowing the patio to be enjoyed even in the evening as well as fire pits and small fireplaces, staunch allies during cooler seasons. Essential then, the sun coverings providing shelter and greater comfort from the most diverse weather conditions.
3. Garden awnings and pergolas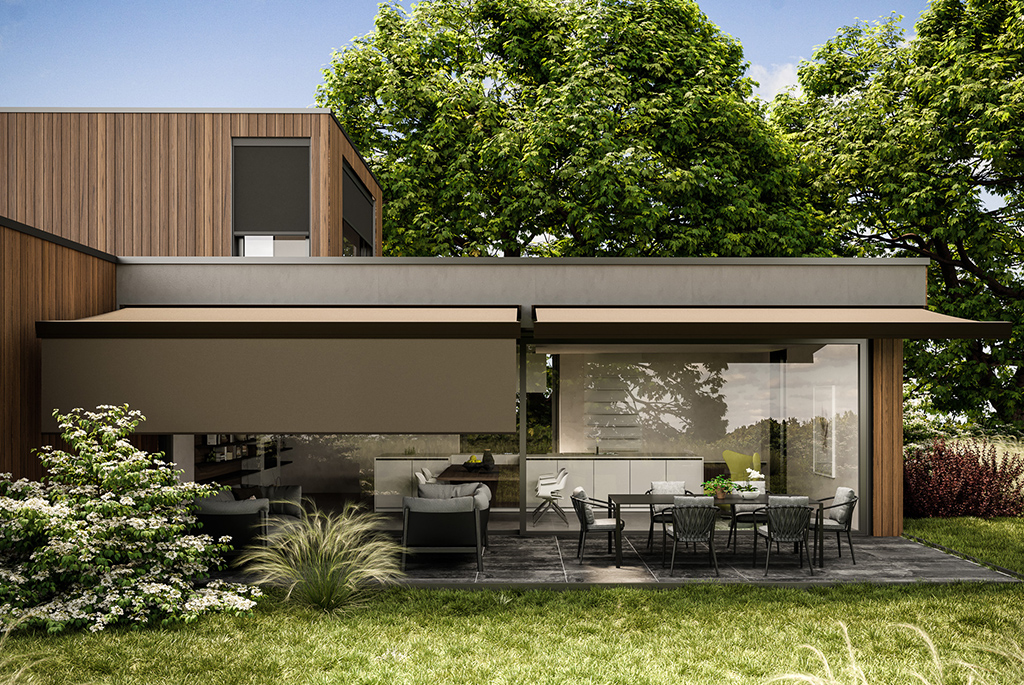 Fully enhancing your own patio means seizing any usage opportunity. This is why including awnings or pergolas for gardens in your project can truly make a difference.

Folding arm awnings are highly suitable for furnishing the garden, thus providing shade and ventilation during the warmest hours of the day. Pratic branded models can reach up to six meters in depth for each unit, thus shielding vast areas and requiring a small installation place thanks to their compact framework and the retractable canvas, which once closed is housed within an aluminium box, resulting in a discreet design.

Furthermore, garden pergolas provide extra protection. Bioclimatic pergolas in particular allow lighting, air circulation and temperature to be adjusted in a natural way thanks to the blades' operation. A high-tech solution, which Pratic has commingled with home automation systems that can be activated per smartphone or vocal commands and are concealed inside the covering featuring a refined design, customizable with outer glazed walls, platforms, vertical awnings and lighting systems. An authentic area in the open air, within which any desired space can be obtained from living to dining rooms up to top-modern garden kitchens.
4. Outdoor kitchens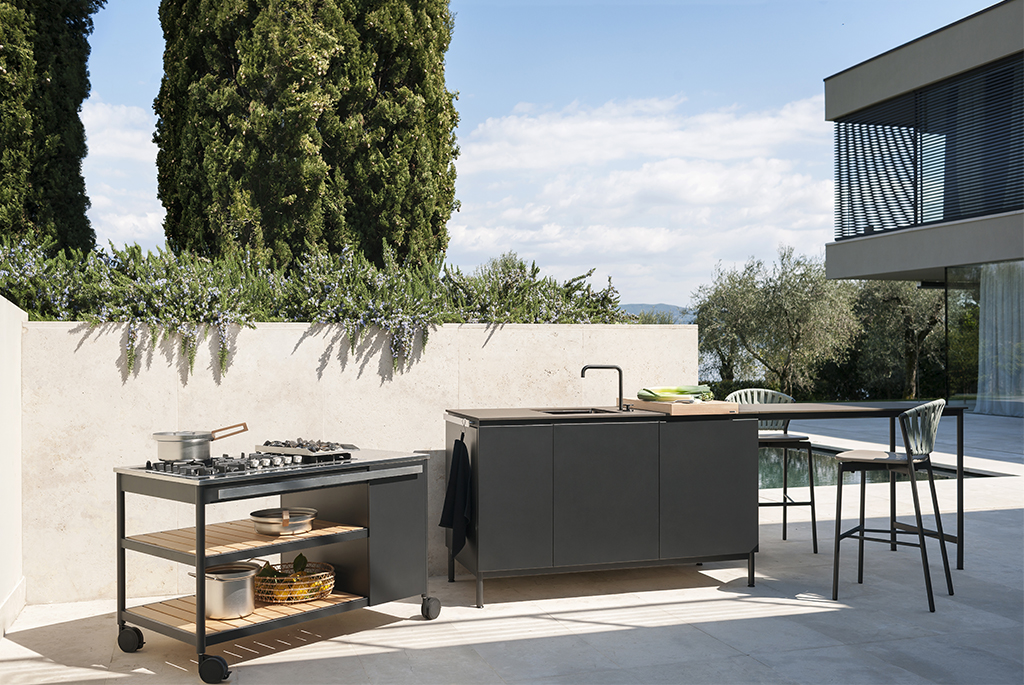 Centrepiece of outdoor conviviality, outdoor kitchens fully embody the idea of a second living in the open air. The latest new models of garden kitchens ensure all the comforts and the equipment of the most avant-garde indoor versions by replicating their modern style and tastefully furnishing the garden. Cosy and timeless, monobloc outdoor kitchens are nowadays among the trendiest and most sought-after: structures made of concrete or steel featuring a minimalistic aesthetics thanks to built-in solutions concealing storage compartments, sink, tap and faucets within an authentic and extremely refined sculpture.

Diverse in concept yet equally elegant are modular garden kitchens, whose units can be freely arranged to create a custom-made installation according to one's needs. All of this naturally with constant focus on aesthetics and the most durable materials for open-air use.

Both models offer a wide array of fittings: from the most different stovetops to modern taps and sinks, from working tops with refined finishes and state-of-the-art appliances up to wine cellars and bar corners. Lastly, a special mention should be made for the barbecue. Whether charcoal, gas or pellet grill, the most innovative versions offer advanced functions and a modern design, making it the perfect optional for any garden kitchen.
5. How to light up the garden
Spending some time surrounded by the greenery even at night is a true pleasure, above all during the summer: that's why it is fundamental to know how to light up the garden and how to create the most suitable atmosphere for the outdoors of your house.

The spaces towards which light should be directed are those reserved to conviviality: the kitchen, the dining and the living room. Here it's possible to use, with free combinations, wall lighting systems– if the concerned area is next to the house– floor lamps and refined lights to place on tables or coffee tables. e graziose luci da posizionare su tavoli o coffee table. Nevertheless, to light up the garden also the sun shading systems can help: Pratic awnings are equipped with dimmable Led strips, placed on the front bar and along the aluminium box which contains the rolled-up canopy. The company's pergolas, instead, offer many possibilities: from RGB Led strips along the roofing and the platform perimeter to the spotlights integrated into the uprights and the sunshade blades (for bioclimatic models).

Lighting up the garden also means highlighting the perimeter itself of the garden and its ways, such as pedestrian paths and entry ramps. To do it, the most chic solutions are given by little essential lamps or by recessed spotlights inserted in the flooring.

A stylish detail is then given by the illumination of trees and plants, which creates depth and a dreamlike atmosphere. In this case, the illuminating points have to be well hidden in the greenery and– for an impressive result– the light has to come from below when it comes to highlight bulky trees, and from above for plants and shrubs.

Finally, not to forget – for those who have one – is the pool. In this case, the must-have are underwater lights that illuminate it from the inside; along the edge, few soft warm-white spotlights are enough.
6. How to furnish a small garden
The effect of a refined and sophisticated garden can be reproduced even in small outdoor spaces: the rule is just aiming for the right proportions, using "smart" furniture that can be easily reconfigured if required.

Furnishing a small garden is a matter of careful space management, to be designed in a versatile way, to be designed in a versatile way. Therefore is very important to choose simple and compact furniture, thus avoiding voluminous padded pieces of furniture, big seats or tables, or furniture accessories difficult to place or that can be given up in favour of wider, more airy passageways.

It's better to prefer minimal modular sofas, set of chairs and dining tables proportionate to the context and kitchen corners exploiting verticality.
When you have to furnish a small garden, the walls of the building are a cunning trick to exploit. These are perfect for the installation of furniture and wall-mounted sun shading systems (awnings up to small pergolas) to let grow vertical vegetable gardens and climbing flowerbeds, or for inserting fireplaces and heating systems. A small corner of greenery, without a sacrifice.
7. How to furnish a paved garden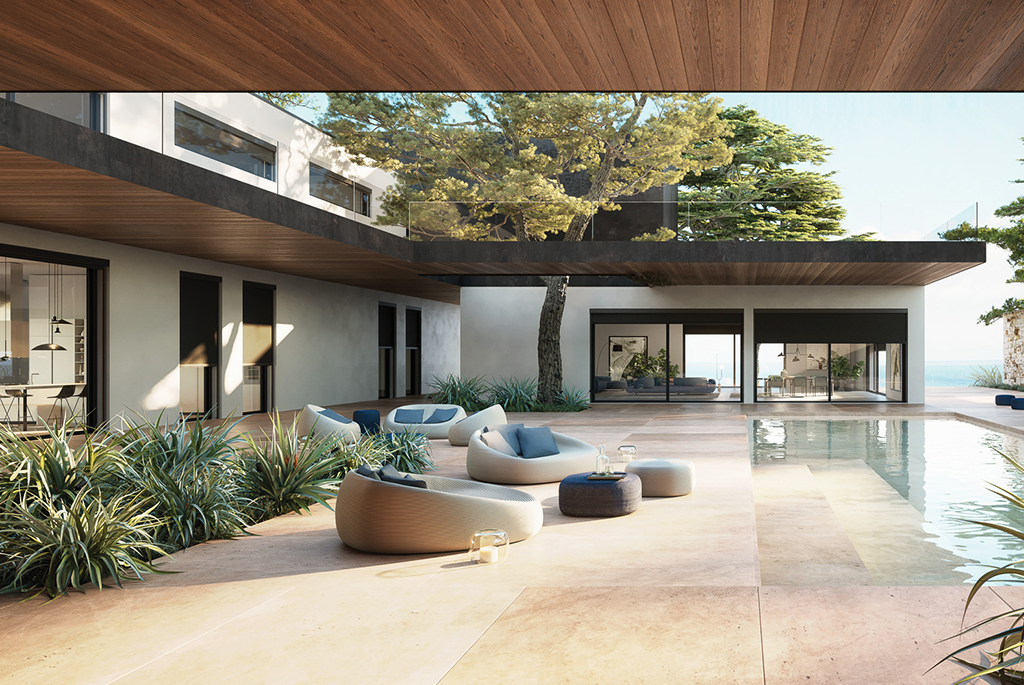 It very common for small gardens to have, instead of an expanse of grass, a totally paved surface, which is practical and easy to maintain, and often contributes to the division of spaces in larger outdoor spaces.

The options to furnish a paved garden range from stone surfaces to concrete and terracotta tiles, through porcelain tiles and wood specially treated for the outdoors. The choice of finish is determined by the style and the materials matched with those of the house, but also by their resistance and the kind of effect you wish to obtain. Wood and gres finishes are recommended to create a flat and uniform surface, like the one of indoor spaces. If you prefer a more natural result instead, stone is what you need– to lay even irregularly and leaving a thin grass frame between each slab.
In this type of gardens, the green component can be integrated in the flooring itself, with specific gaps for tree planting, or through potted plants, together with hedges and shrubs surrounding the perimeter of the dehors.

Another option to furnish a paved garden is represented by fully customisable modular platforms. The one designed by Pratic stands out for the balance system allowing to fix any soil slope, thus creating a flat surface. The walkable surface can be covered with any flooring for the outdoors, whereas the aluminum structure can be customised in colour and can be equipped with perimeter RGB Led strips.Not only, the platform is also the ideal base for the installation of pergolas and, when combined, they allow the creation of an authentic open-air room that multiplies the home spaces.
8. Winter garden
The bioclimatic pergolas equipped with modular platforms and glass perimeter closures can recreate the comfort and the charm of the cosiest outdoor winter gardens: these ones are structures traditionally integrated into the house, standing out for the glass walls and ceilings letting the natural light in, as if you were in the garden. Spaces combining opening and protection and, therefore, to be enjoyed all year round.

Like a winter garden, Pratic bioclimatic pergolas offer a great view towards, thanks to the glass walls of Glass Series, customisable with clear, smoky grey, mirror or frozen finishes; the latter conceived to benefit from total privacy. The covering with sunshade blades let the light in and the natural recirculation of the air, which may be customised through a simple gesture or voice control.

How to furnish a winter garden? In the past these spaces (also called orangerie) were used to create "green" refuges totally sheltered, and still today allow to house plants and small trees. Their versatility make them perfect as relax areas, for reading, for hobbies or work; not only, dining and living rooms find here the most spectacular location.
If on the choice of furniture and accessories you can indulge – always according to your own taste and the most suitable aesthetics for the home – an indispensable aspect for furnishing the winter garden is the heating instead: fireplaces, stoves or heat lamps must not be lacking to enjoy the beauty of a protected outdoor area all year round.