Increasingly immersive trips to be experienced even for a few days at any time of year. The new way of doing tourism fosters experiences in contact with the landscape and the environment, thus requiring accomodation facilities to redesign welcoming spaces in order to offer their guests the chance to enjoy the view around all seasons.

Pergolas for hotels allow to enhance the most different hospitality areas, while providing maximun protection without renouncing to the authentic contact with the outdoor. Elegant but discreet structures that, thanks to a highly customized desing can fit coherently into urban and natural contexts, making them both accessible and comfortable.
Bioclimatic pergolas for hotels
Also available with PVC retractable covering, the most required pergolas for hotel are undoubtedly the bioclimatic ones, namely with sunshading aluminium blades which, depending on the type, are able to rotate from zero to 140 grades or slide backward and overlap till compacting in a narrow space.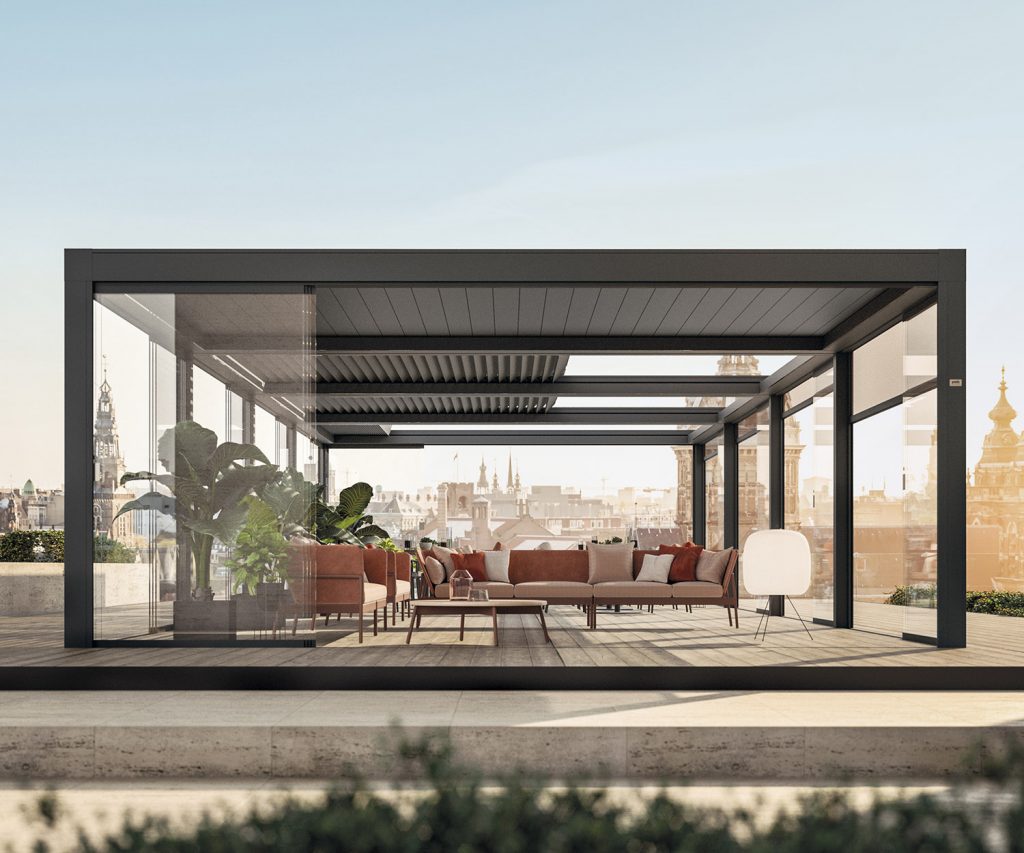 These covering motions enable you to regulate air recirculation, natural lighting and ventilation, obtaining an always pleseant and tailored indoor temperature, as well as a significant reduction in consumption for air conditioning.
Adjusting the tilt and opening of the blades of the bioclimatic pergolas for hotels is simple and intuitive thanks to the use by remote control, apps on smartphone and tablets or voice commands. All domotic systems are then conceived to manage multiple modules simultaneously and are compatible with any management system already supplied to the hotel, so as to centralize and simplify its use.

Furthermore, Pratic bioclimatic pergolas for hotels can be accessorized with advanced weather sensors that react to all weather conditions – such as rain, snow, wind but also intensity of sunlight and heat – and consequently order the automated opening or closing of the sunshade blades. This is an important advantage, since they allow to respond in real time to changes in the weather, ensuring protection and comfort for guests using the space below.
Pergolas for hotel terraces
Pratic bioclimatic pergolas for hotels are customizable – from size to color, up to accessories – to ensure a perfect installation in any environment: even on rooftops and terraces.
Self-supporting, wall-mounted or installed into niches, the pergolas for hotel terraces transform the dehors into a space that can be easily used in any season, as it is perfectly protected from excessive light and heat, as well as from rain and wind. The protection is also strengthened by the possibility of shielding the perimeter of the pergola for hotels with tempered glass closures resistant to air, water, cold temperatures, dust and noise.
With a simple touch, then, the terrace becomes a cozy heated veranda, from which to enjoy an incomparable view of the outside. In particular, the glass walls of Glass collection, with its essential and refined design, offers sliding or fixed models with door, with clear, smoked, burnished, satin or mirrored glass finish, depending on the needs. The technical components, such as screws, gaskets, sliding guides and profiles are completely hidden, to give space only to the brightness and transparency of the glass window, just 10 or 12 mm thick.

Lounges, restaurants and bars located on the highest floors of the building are thus enriched with a panoramic view always available in all weather conditions; but the pergolas for hotel terraces are also ideal for suites with large balconies, where you can set up private and open air lounges, to be adjusted at will through the movement of the blades and the closing of the sliding glass doors.
Pergolas for hotel pools
Among the outdoor areas of a hotel, the swimming pool is one of the most evocative and functional, since it is possible to use the adjacent area as a bar or relaxation area, but also for events in a refined atmosphere.
Precisely in these spaces, bioclimatic pergolas for hotels reveal all their versatility, conferred by a clean and minimal aluminum structure, capable of adapting consistently to the building's style and to the most diverse needs of use.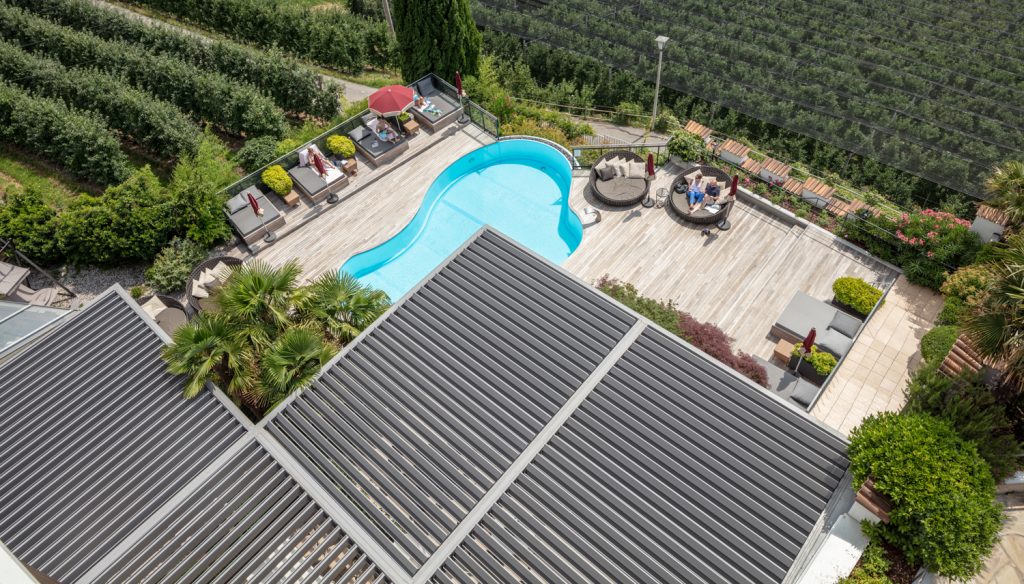 Single modules of pergolas for swimming pools are a refined and classy alternative to solar shading such as beach umbrellas, to create a small yet private lounge to be handled personally: open blades to sunbathe or closed to enjoy shadow and pleseant fresh and clean air.
More modules placed side by side and with different configurations create the ideal space for lounge bar, restaurants and multi-use rooms for events and refreshments, which can be easily arranged outdoors even in case of bad weather. The blades, when closed, ensure optimal protection and head rainwater into gutters hidden into the horizontal profile and along the struts of the pergolas for hotel swimming pools.
Pergolas for hotel restaurants
Designing the restaurant area including an outdoor space equipped with bioclimatic pergolas offers countless advantages in terms of comfort, charm of the location and seats. In fact, pergolas for hotel restaurants increase the surface, and consequently the seats available in any season; in particular, those with a view to the outside, which have been always more requested and appreciated.

Installing pergolas for restaurants make it possible to create rooms with modular openings that are perfectly immerged in the landscape. At breakfast and lunch, natural light seeps in through sunshading blades on the roof, whereas evenings the perfect atmosphere is obtained trough two refined lighting systems: Led Lines strips on the perimeter, adjustable in intensity and colour, and warm white spotlight Spot Light and Quadra Light, integrated in the blades.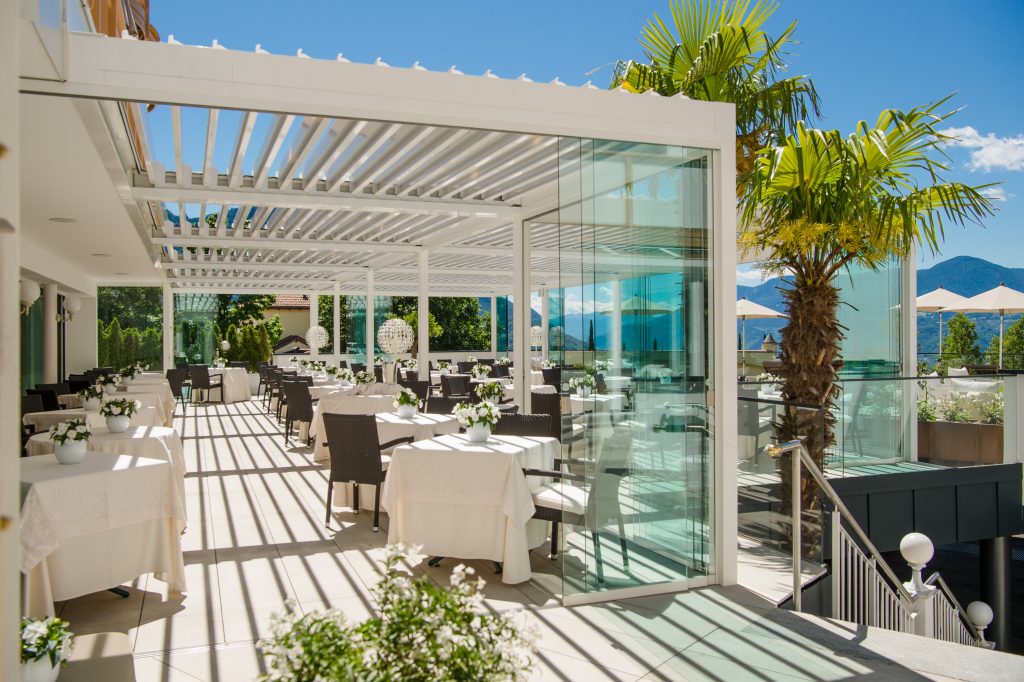 Pergolas for hotel Spa
Even wellness areas can be placed outdoors thanks to technology, comfort and privacy given by Pratic bioclimatic pergolas for hotels.
Jacuzzi, beauty treatements or relax rooms find the perfect palce inside totally private structures thanks to mirrored glass wall Spy Glass, that allow an overview on the sorroundings all the while making the inside beyond reach of outside glances.

An additional solution dedicated to privacy is offered by Raso vertical drop awning fully integrated in horizontal profile of hotel spa's pergolas, just 22 centimeters thick. With a wide range of textiles and filtered ones, they shelter the perimeter of the pergola from sun and wind and at the same time they let the indoor be shaded, making it a completely private space.
Pergolas for hotel gardens
With the aim of fully enhancing the most evocative views of the natural landscape, Pratic has designed an innovative pedana that allows you to install any model of bioclimatic garden pergola on any ground, to enjoy the pleasantness of an environment surrounded by meadows, vineyards and woods.
Set pedana has been realized with aluminium with a balance system that solves any matter with slopes or differences in height; its structure can be accessorized with Led lights, whereas the floor area can be customized with finishing at will. Pergolas and pedana can indissolubly be integrated with each other through upright equipped with stainless steel hooks, which can be installed in three positions – angular, intermediate or internal – allowing rainwater to run off underneath the garden pergola.
For a truly unique outcome that blends in with the landscape, each Pratic pergola can be produced in its preferred nuance, choosing a bespoke color or one from the company's extensive palette of colors, inspired by the timeless colors of design and the warm tones of nature. Over thirty colors are produced with zero environmental impact and are certified by the Qualicoat Seaside Class 2 quality mark, which guarantees the best performance in the field of aluminum coating. Pratic's hotel garden pergolas are thus even more resistant to UV rays, salt spray and humidity, as well as guaranteeing greater durability of the color brilliance over time and ease of maintenance.